Howarth Plans to Exit OLTL
by
Dan J Kroll

Posted Saturday, February 16, 2002 12:28:31 PM

Fan favorite Roger Howarth (Todd Manning) will once again be leaving One Life to Live. While contract talks are ongoing, Howarth's manager has asserted that the chances of the actor leaving the fictional town of Llanview are quite high.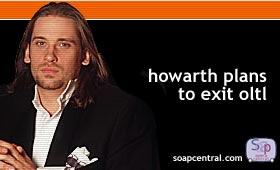 "Roger has no plans to renew," Howarth's manager told Soap Opera Central. However, there were hints that the show could come up with something "extraordinary" to entice Howarth into staying.

But it doesn't appear likely.

Howarth has had a history of coming and going. He made his debut in 1993 before leaving in 1995. Howarth's exit was due largely in part to fan reaction to his character's storyline. Briefly, Todd had raped Marty Saybrooke, but his character had somehow escaped vilification in the public's eyes. At fan gatherings, fan would shout things such as, "Rape me, Todd" and Howarth reportedly had a very difficult time dealing with this nonchalance.

Howarth returned the following year before departing in 1998.

Howarth's most recent return came in May of 2000; his contract is reportedly set to expire on May 31st. As with most soap contracts, there is an option after the second year to renew. ABC is said to be very interested to pick up the option and renew Howarth's contract.

According to Howarth's manager, Howarth would like to pursue opportunities in primetime television as well as feature films.




---