Proving that Internet speculation isn't always wrong, a One Life to Live spokesperson has confirmed that Roger Howarth (Todd Manning) will be exiting the show later this year.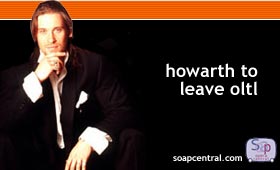 This is not the first time that Howarth has exited One Life to Live. In fact, his coming and going has been more or less a regular occurrence. Howarth originally joined the cast in 1993, but left the show in 1995. He returned the following year and stuck around for two years before leaving in 1998. Howarth next returned in March 2000 for a handful of episodes, and later rejoined the cast on a contract basis in June 2000. Last summer, Howarth took several months away from the show, but he was kept on-screen due to pre-taped episodes. He then returned full-time in the fall.
In an odd bit of timing, new head writer Josh Griffith and creative consultant Michael Malone were responsible for creating the character of Todd Manning during their previous stints as head writers for One Life to Live. Griffith's stories from his current role as head writer just started airing on February 3.
Howarth's final airdate has not been made public by ABC. An insider tells Soap Central that the actor will air through March and possibly longer.