Skye comes to Llanview with a very colorful past. When she arrived in Pine Valley as a singer, she learned soon after that she was the daughter of one of PV's most notorious villains, Adam Chandler. Viewers saw her involved in an AIDS hate group which was her inspiration for torching the home of Cindy Parker and her son, Scott. She was briefly married to Tom Cudahy, who had eventually committed her to a psychiatric hospital after she kidnapped Tom's new love. A recovering alcoholic, she met and married the evil Dr. Kinder - only to later learn he was using experimental drugs on his patients, killing some of them. He kidnapped her and had her drugged and locked up when he discovered she was about to have him arrested. She later teamed up with Janet Green and Erica Kane - to turn the tables on him - a venture that ended in his demise. Skye's finishing touch in Pine Valley was to manipulate the DNA test results on Edmund and Maria's baby - to make Dimitri Marick the father, in the hopes that she would eventually land Edmund for herself. When Maria was killed in a plane crash and the truth eventually came out, Skye left Pine Valley in shame, with the help of her father.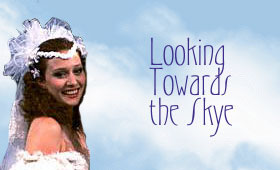 Rumors are that she is coming to Llanview to destroy the happiness of an old flame -- possibly John Sykes. There is also some speculation that she may turn out to be the daughter of Rae Cummings, which would certainly open the door for Rae's entrance in Pine Valley in the weeks to come. AMC viewers could certainly look for fireworks to go off if there's to be an encounter there between Rae and Adam Chandler. If she is to be the daughter of Rae Cummings, this won't be the first time that these actresses have played the role of mother and daughter -- as former fans of Another World will remember to be the case, in the days when the two were working for Jill Farren-Phelps.
Since she left All My Children in 1991, Robin Christopher has appeared on General Hospital (1993), and Another World (1994-1997). She was also seen twice on Star Trek: Deep Space Nine in 1993, Matlock in 1993, and Vinnie and Bobbie (1992).