For several years now there has been rampant speculation that Guiding Light could - and according to some internet chatter, would - be canceled at any time. Those rumors can be put on the backburner for at least another year as the show has been renewed.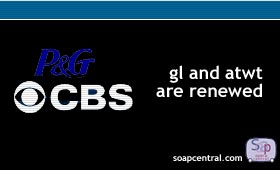 Though the terms have not been released, the deal between CBS and Procter & Gamble Productions (PGP) will have both As The World Turns and Guiding Light airing for at least several more years.
There has not been talk of As The World Turns possible cancellation. The show seemed a sure-fire bet for renewal since it has been graced with an armful of Daytime Emmy awards in the past two years.
There had been some talk last year that Procter & Gamble might want to get out of the soap opera business. In several published reports, a P&G executive was quoted as having said that the costs were exorbitant and that soap fans and their repeated threats of boycotts over actor dismissals were actually hurting the company's bottom line.
An insider tells Soap Opera Central that both As The World Turns and Guiding Light have been reupped for three years - however, there are reportedly provisions in the contract that will allow for a yearly review based on the shows' performances.
A P&G spokesperson did not return requests for an interview.