You probably want to be a millionaire. You may even want to win a fortune by spinning a wheel. But do you think that you can match wits with an 11-year-old? The answer might not be as easy as you think -- and five of your favorite soap stars are about to find that out for themselves.
Starting November 2, Jeff Foxworthy will host a syndicated version of his hit primetime game show, Are You Smarter Than a 5th Grader? The syndicated version has been shaved down to a more compact 30-minute episode, and it will air five days a week. To kick off the new series, Foxworthy has tapped some other familiar daytime faces to test their smarts.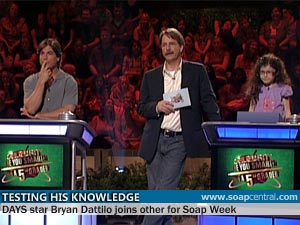 Are You Smarter Than A 5th Grader? is a slightly different take on the quiz show format. There are no vowels to buy, no friends to phone, and crazy costumes are optional. Instead, contestants are faced with questions they should have learned in the fifth grade, topics like "4th Grade Math" and "5th Grade Geography." Other categories cover art, social studies, grammar, and other supposedly elementary subjects.
The special Soap Star Week will feature five past and present soap stars, including Tyler Christopher (Nikolas Cassadine, General Hospital), Sarah Brown (Claudia Zacchara, GH; Sandy Sommers, The Bold and the Beautiful), Bryan Dattilo (Lucas Roberts, Days of our Lives), Tuc Watkins (David Vickers, One Life to Live), and Gloria Loring (ex- Liz Chandler, DAYS).
All five stars will be playing to raise money for their favorite charities.
For the channel and time in your area, please check your local listings.
Photo: FOX
---
's Dan J Kroll weighs in with his thoughts on AMC's near-cancellation.
---> Share this story with friends, family or the world.

PRINTABLE VERSION
View a printer friendly version of this article
---