As Marilyn Monroe once famously stated, "We are all of us stars, and we deserve to twinkle." And twinkle is exactly what Queens of Drama stars Donna Mills (Madeline Reeves, General Hospital; ex-Abby Ewing, Knots Landing), Crystal Hunt (ex-Stacy Morasco, One Life to Live; ex-Lizzie Spaulding, Guiding Light), Lindsay Hartley (ex-Cara Castillo, All My Children; ex-Theresa Lopez-Fitzgerald, Passions), and Chrystee Pharris (ex-Simone Russell, Passions) did last night during a very special Marilyn Monroe event at the Hollywood Museum in Los Angeles.
The foursome had the special privilege of donning original pieces of some of Monroe's wardrobe before privately unveiling a collection of memorabilia and missing photographs of the Hollywood icon that will officially be available for public viewing starting Monday, June 1.
Donelle Dadigan, Founder and President of the Hollywood Museum and owner of the Max Factor building, purchased and secured the copyrights to the hundreds of never-before-seen rare photos, uncovered by the son of Monroe photographer, Milton Greene. The images include promotional photo shoots as well as candid images taken with friends and colleagues such as Milton Berle, Maurice Chevalier, Sammy Davis Jr., Marlene Dietrich, Louella Parsons, Billy Wilder, and Frank Sinatra.
Hunt, who watched a tutorial and applied her makeup just like Monroe, was especially moved to be in the blonde bombshell's dress. "It's unbelievable. Just seeing the inside of the dress, some of the makeup on the inside of it, is just kind of incredible," she says. "There's just something about that that is a reminder of how real it is and who wore it last... I have so many photos of her in my home, of the last photo shoot. I have them very large in my home, blown up huge. You can't miss it; it's the first thing you see when you walk in. There's just something [about her]. First of all, she's just gorgeous. And so talented. And I think probably underestimated as to how smart she actually was, and gone way too soon. She's a reminder to not be taken, to be strong and not be taken advantage of. It's a good reminder, and I think, 'God, she died when she was only six years older than myself.' You really don't know how long you have, and I want to live each day to the fullest. I certainly have a ton that I want to do, and I can only imagine what all else she would have done had she have lived longer."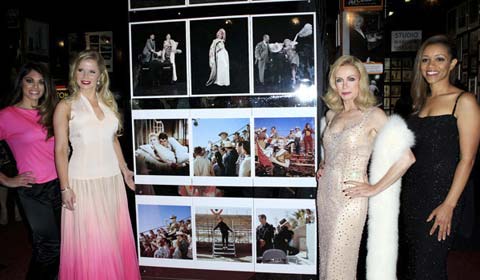 Perhaps Monroe would have joined or at least made an appearance on a daytime drama. If so, Lindsay Hartley thinks she would have been perfect. "Oh my God, she could have rocked it. It's right up her alley," she enthuses. "She could have worked every angle. All her personalities, all of them, the innocent and sweet to the sexy woman that's just after the whole town, she could take over everything. Actually, it would be a perfect fit."
Adds Morgan Brittany (ex-Katherine Wentworth, Dallas), "I think Marilyn would have enjoyed doing drama, I really do. She was very good at it. And I think honestly, Marilyn would have been a very good vixen, kind of like what Donna Mills used to play, or even what I used to play, or Morgan Fairchild [ex-Jennifer Pace, Search for Tomorrow; ex-Jordan Roberts, Falcon Crest; ex-Sydeny Chase, The City] used to play. I think she would have been excellent."
To view the exclusive collection of Marilyn Monroe photographs and memorabilia, visit the Hollywood Museum in Los Angeles beginning Monday, June 1. And for more on Queens of Drama, be sure to tune in to the series on Wednesday nights at 8/7C, only on Pop.
What's one of your favorite things about Marilyn Monroe? What kind of soap character do you think she would excel at playing? We want to hear from you -- and there are many ways you can share your thoughts.