Beacon Hill centers on ex-lovers Sara Preston, a reporter, and Katherine "Kate" Wesley, a state representative, who are caught up in political and family drama in the wealthy Boston neighborhood of Beacon Hill. The series' first season premiered on March 5, 2014, and starred Alicia Minshew and Sarah Brown as Sara and Kate, respectively.
A collaboration between Emmy Award-winning Executive Producer Crystal Chappell of Open Books Productions, which produced Venice and The Grove, and Beacon Hill creators Linda and Jessica Hill of Bella Books and Bella Productions, the series is also produced by Hillary B. Smith and Ricky Paull Goldin. The first season was directed by Alan Alarr (All My Children, Port Charles, The Young and the Restless, and Days of our Lives) with the newest season codirected by Chappell and Smith, who, in addition to producing and directing the series, also appear in it.
The first season introduced us to Sara's family, including her mother Claire (Crystal Chappell), brother Eric (John-Paul Lavoisier), life partner Diane Hamilton (Jessica Morris), step-grandmother Evelyn (Melissa Archer), and grandfather Senator William Preston (Ron Raines). We also met Kate's inner circle, including her father Senator Tom Wesley (Scott Bryce), Chief of Staff Andrew Miller (Ricky Paull Goldin), and best friend Laura Parker (Rebecca Mozo). Rounding out the season one cast was local coffeehouse-owning duo Emily Tanner (Louise Sorel) and Louise Cassell (Tina Sloan).
Beacon Hill opened with Sara returning to Boston after her politically powerful grandfather suffered a stroke. Leaving her girlfriend Diane behind in New York, Sara found herself back in the middle of the drama she'd escaped when she left Beacon Hill to chase her dreams of becoming a reporter. Tensions ran high between Sara and her family, especially with her grandfather's young trophy wife, with Sara stumbling through memories of her times with Kate as she revisited their old haunts, and with the blending and blurring of lines between political and familial. When Sara came face to face with Kate, after six years of no contact, old feelings resurfaced that threatened to derail the lives Sara and Kate had built separately. The drama was flowing throughout the twelve episodes, but the neighborhood coffeehouse owners, Emily and Louise, were on hand to pour some levity and tough love. Ending on a cliffhanger, season one left many questions unanswered, but season two promos tease a final answer to the question on the minds of many watchers: "Who's at the damn door?"
The roles of Sara Preston and Kate Wesley previously played by Minshew and Brown have now been recast with Nadia Bjorlin (ex-Chloe Lane, Days of our Lives) and Marem Hassler (Riley Parra, Riley Parra). Due to unexpected circumstances, Alicia Minshew was unable to join the filming of season two as main character Sara Preston, so Nadia Bjorlin stepped in to play the part. Sarah Brown announced last year that she has retired from acting. Producer Hillary B. Smith (ex-Nora Buchanan, One Life to Live) will appear in the role of Isabel Preston this season, Jacob Young (ex-J.R. Chandler, All My Children; ex-Rick Forrester, The Bold and the Beautiful; ex-Lucky Spencer, General Hospital) will play J.D. Cooper, Mark Hapka (ex-Nathan Horton, DAYS) will take over the role of Eric Preston from John-Paul Lavoisier, and Jessica Leccia has taken on the role Nadia was intended to play, Susan Preston, Eric's wife.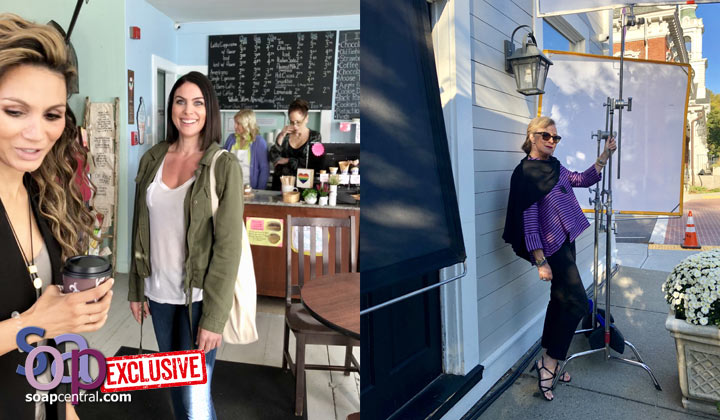 Shot on location in Massachusetts, season two will give fans longer episodes, a deeper look at the politics fueling the Prestons and Wesleys, and, of course, more drama. Beacon Hill creators and writers, Jessica and Linda Hill, run Bella Books, an independent book publisher that focuses on publishing stories by women, written for women. Jessica says of Bella Books, "Our goal is always to promote storytelling that tells our stories -- through books and now through film. We want to create content that show both women and men in all of their wonderfully complex and layered possibilities." She goes on to say about season two, "Chemistry on set was through the roof and we can't wait for the fans to see it. We promise that you won't be disappointed. It's going to be an exciting season."
In 2015, Beacon Hill was nominated for a Daytime Emmy Award for Outstanding New Approaches in a Drama Series, and both Minshew and Brown were nominated for Daytime Emmys for Outstanding Performer in a New Approaches Drama Series. That same year, Brown won an Indie Series Award for Best Lead Actress (Drama) for her role, and Chappell was nominated for an Indie Series Award for Best Supporting Actress (Drama).
To fund season two, Beacon Hill recently completed a crowdfunding campaign that included perks such as opportunities to meet cast members or talk to them on the phone or to receive signed items and memorabilia.
Season Two is expected to air in early 2020. Seasons One is available via the series' official web site, beaconhilltheseries.com
Are you excited that Beacon Hill is returning for another season? What are some of your favorite moments from the series' first season? We want to hear from you -- and there are many ways you can share your thoughts.