For the Week of June 21, 2010
In the course of a few weeks, Caleb has gone from funnyman with zinger after zinger… to an obnoxious bully… to a heartbroken hermit who may or may not have a sensitive side.
And while I am singing the praises of being sensitive, let me get my own personal sappiness out of the way early in the column.
I really liked the reunion scene between Jack and Erica. Erica spotting a duffel bag and map on the floor of Caleb's cabin didn't come across as a clumsy plot device. Even Erica hobbling her way to the door worked for me. Susan Lucci successfully conveyed Erica's excitement and I felt as though Erica truly believed salvation was near. The production values were done well, too. As Erica stumbled onto the porch, some backlit shadows appeared from off-screen. The music swelled, and Erica and Jack were reunited. Even Krystal's presence "worked," because I'd been questioning her presence on the search-and-rescue mission from the beginning.
Speaking of questionable presences, I have to tell you that Madison muttered a line that made me crack up -- and TiVo the scene back so I could listen to it again. Just before Greenlee fired Madison, Madison was suggesting that everyone team together and head to West Virginia to help search for Erica. David was there and made a snide remark directed at Madison. Madison twisted her neck, gritted her teeth, and snarled, "I still don't know why you're here!"
From the emails that I've received, I know that I am not the only one who is puzzled as to why Liza is allowing Damon to blackmail her with those risqué photographs. Dale wrote in to say, "I'm wondering why Liza just doesn't steal Damon's cell phone -- or take it and drop in a water glass or better yet toss it into the ocean. I'm pretty sure the photos won't survive a good dose of H2O... unless he downloaded them somewhere else..."
Oh, silly Dale. Don't you know that Ryan would swoop in with a bag of rice and help Damon dry out his phone? Of course, then Damon would be obligated to be involved in short-lived relationship with Cougar Ryan… Oh wait, that is
so
last year.
All My Children has had a history of having interesting recurring characters. Let me rattle off a few from the past: Grace Keefer, Ester Glynn, Leslie Coulson, and Carmen Morales. We now have Iris Blanco, the mayor of Pine Valley. She's had only a few scenes, but she entertains the heck out of me. I wonder if we can expect to see some sort of City Hall storyline in the near future.
Natalia's rise to detective is about as meteoric as Jamie's one-and-a-half-year medical degree. Mayor Blanco was right: Didn't Natalia just shoot someone not that long ago? I am not sure that acing her detectives' exam necessarily warrants her getting a promotion. Maybe Brot will become a detective next, and we'll have a new cop show:
CSI: AMC
.
For those of you who know the theme song to the old sitcom,
Alice
, feel free to sing along: There's a new girl in town, and she's not feelin' good! She's got a fresh regal face for the neighborhood. Okay, sing-song is over. I've never been a recast for anything in my life, so I can't pretend to know what it feels like to be taking over someone else's role or job. I can, however, speak on being a viewer that's watched as roles have been recast in the past. Any recast is jarring at first, but I'm hoping that we'll all give Christina Bennett Lind some time to get used to being Binks. So far, I've thought that she's hit the ground running.
It was nice that the writers had Reese and Miranda call Bianca. Let's be real: that's what loved ones do; they call to make sure that everything is okay. In some of Bianca's past returns to Pine Valley, the loves she'd left town with mysteriously vanished. Lena… Maggie… Zarf/Zoe… I'm glad that Reese is still in the picture, if only figuratively.
Random question: Why does the new Bianca remind me of Céline Dion?
Scott and Annie sure have ramped up their relationship rather quickly! I've seen an episode or two of
Maury
and
Jerry Springer
in the past to know that it apparently happens in real life, but I just find it a little icky to hop into bed so quickly with someone who's been having sex with your cousin.
It seems so strange to see JR with hair again. That's all. Just something that popped into my head.
I've gotten a lot of messages regarding Angie's non-pregnancy over the past week. Many of you were quick to point out that Angie probably contracted something from the young patient she treated at the hospital and wondered how on Earth I'd missed that. I didn't miss it. I am just hoping that the mystery patient was just a red herring to catch us all off-guard later. Christie, meanwhile, wrote in to say that she was "glad Angie's pregnancy came back negative since Debbi Morgan is 53 [...] and is probably menopausal."
Yes, Debbi Morgan is 53, but I don't think that an actor and their character always have to be the same age. We're certainly not being led to believe that Angie is 20. There was specific dialogue last week between Angie and Jesse that stated both were in their 40s. I've also learned from watching the news that there are all these "rare" cases of 60-year-old women getting pregnant!
Still, I found it particularly moving when, after learning that Angie wasn't pregnant, we saw a scene with Jesse giving away a stuffed animal to a toy drive, a toy that he'd undoubtedly bought for his own child.
Though not nearly as emotionally charged as some of the things I've dished this week, I wanted to let you know that this will be my final Two Scoops column -- at least for a little bit. For the next two weeks, I will be immersed in Emmy madness. So I will be "recast" for at least two columns, but I will be back after that!
If you haven't yet checked out my Emmy predictions to see who I think will win,
check them out now by clicking here
. I did not pick All My Children to win in any of the "big eight" categories, but I have listed some of the show's nominees as "dark horses." Ricky Paull Goldin is very much in contention for Supporting Actor and AMC could score upsets in the Writing Team and Drama Series categories. We all know that AMC is my soap of choice, but I had to watch the Emmy reels objectively.
If you want to read more from me while I am away, be sure to
check out the Emmy coverage
here on Soap Central or you can review some of my past columns in
the Two Scoops Archives
. I'll see you back here in a couple of weeks.
dan
Dan J Kroll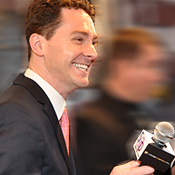 INS AND OUTS: WHO'S COMING AND WHO'S GOING