When Josh Duhamel joins the cast of All My Children in mid-October as Leo, he'll become the third male model to assume a new role on AMC. Duhamel, a relative unknown in acting circles, follows Forbes March (Scott) and Cameron Mathison (Ryan) as models making the transition to the acting world.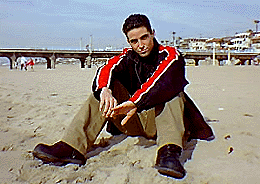 Nick Fee was one of the actors who auditioned for the part of "Leo."
As with any role on an show, Duhamel had competition for the role. One of those vying for the part was Nick Fee. Fee, a fan of All My Children, learned of the auditions for the role of Leo through his agent in Los Angeles. Fee submitted his name for the role and was later contacted by AMC's casting executive, Judith Blye Wilson. Fee says that he rehearsed his lines over and over and was sure that he'd gotten them down. Then it came time for the audition. In most usual circumstances, candidates fly to New York for the auditions. This time, though, Wilson flew to Los Angeles to meet with Fee.
"On the day of the audition I was very prepared," says Fee. "Unlike many other casting directors, [Judith] was not terribly friendly, and I got the feeling that the moment she saw me that I was not what she wanted."
Fans of AMC have long criticized the show for casting characters by looks rather than by talent. That became an issue with the casting of several recent roles including Kit Fisher, Camille Hawkins, and Scott Chandler. In recent weeks fans of other ABC soaps have said that their soaps too have been caught up in the looks department.
Fee says that he "fit the part of the boarding school bred schemer" but that he had "no chance" of landing the role. Why? "Because All My Children almost always goes for model-types--the guys who cannot act their way out of a paper sack, but have bulging biceps and 'froggy' lips," says the actor.
It's too soon to tell exactly how Duhamel will do in the role. Regardless of the turnout, AMC fans are urged to give the actor a chance in the role. It can take a few days for any new actor to get into the groove of their new stint.
As for Fee, he's put All My Children behind him---at least for now. He's recently completed a television commercial for Chevrolet and is scheduled to begin filming a miniseries entitled Dawn Of Our Nation, about the Revolutionary War, for a new cable channel.
Little is known about the character of Leo. His arrival in Pine Valley will shake up things for newlyweds Vanessa and Palmer. Perhaps he's one of Vanessa's long-lost sons.
---