How long have you been watching ATWT?

I've been an ATWT viewer for somewhere between 20 and 30 years.
24%
I didn't see the first episode, but I've been a fan for more than 40 years.
17%
I've been watching As the World Turns for about 15 to 20 years.
15%
I'm a newer viewer and just started watching in the 1990s.
12%
I'd say that I've been tuning in for at least 30 years.
12%
I'm a very new ATWT fan. I've only started watching in the past few years.
9%
I'm a viewer from the very beginning. I've been watching since Day One.
9%
It's tough to say because I tune in and tune out so often.
2%
I'm not an ATWT viewer. I'm just tuning in for the 50th anniversary.
1%
Other
1%
Poll Posted: March 24, 2006
"Good Morning, Dear."
On the morning of April 2nd, 1956, those three words launched a 30-minute live soap opera called As the World Turns. Times were different then - married couple Nancy and Chris Hughes slept in separate twin beds - but 50 years later, As the World Turns continues to hold true to its traditional family values while remaining current with topical storylines.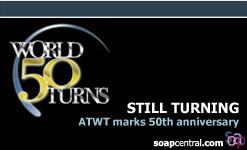 Created by Irna Phillips, As the World Turns entered uncharted territory when it debuted with a live television broadcast. The show went on to become the top-rated daytime drama series from 1959 to 1971 and during that time produced a primetime spin off, Our Private World.
2006 will be a year of celebration for the Procter & Gamble-produced serial. After all, it isn't every day that a television program celebrates its golden anniversary. On daytime television, only Guiding Light has been on the air longer. That CBS soap, which is also produced by P&G, will notch its 70th year on the air in 2007. Not counting news-oriented programming, the longest running primetime series currently on the air is FOX Television's animated series The Simpsons. The Simpsons has been on the air for an amazing 17 seasons and has aired 370 episodes. By contrast, As the World Turns will air episode #12,735 on April 3rd, 2006.
To celebrate its milestone year, As the World Turns has a lot of surprises in store for its fans. The celebration starts off this week with the airing of the first of two special anniversary episodes.
On Friday, March 31st, the residents of Oakdale pay homage to television's classic situation comedies and transform themselves into characters from "The Beverly Hillbillies," "The Munsters," "I Love Lucy," "I Dream of Jeannie," "Happy Days" and "Laverne & Shirley."
On Monday, April 3rd, seven of Oakdale's most-celebrated women look back at the past 50 years. After attending an out-of-town ceremony to honor Nancy Hughes (Helen Wagner) for 50 years of community service, Lucinda (Elizabeth Hubbard), Kim (Kathryn Hays), Lisa (Eileen Fulton), Susan (Marie Masters), Emma (Kathleen Widdoes) and Barbara (Colleen Zenk Pinter) board a bus that breaks down on its way home. As they await rescue, the women reminisce and laugh about the good times from the past 50 years.
Helen Wagner has been a part of the As the World Turns cast since the very first episode.
Over the next year, As the World Turns' writers have even more memorable moments planned. Upcoming storylines will center around the confusion of Holden (Jon Hensley) and Lily Snyder (Martha Byrne) as they comes to terms with their son's homosexuality, and a stranger claiming to be Rose's daughter enters their lives; Mike Kasnoff (Mark Collier) and Katie Coleman's (Terri Colombino) impending marriage is put on hold when Mike must head to Europe. When he returns, he discovers that Katie and his cousin Nick Kasnoff (Jordan Woolley) have developed feelings for each other; sparks fly when two young couples, Gwen Norbeck (Jennifer Landon) and Will Munson (Jesse Soffer) and Casey Hughes (Zach Roering) and Maddie Coleman (Alexandra Chando) are driven closer together and further apart; Barbara Ryan (Colleen Zenk Pinter) is working hard to find a way to break up her son Will and Gwen; the mysterious kidnapping of Dusty Donovan (Grayson McCouch), and Emily Stewart's (Kelley Menighan-Hensley) desperate attempts to win back Paul Ryan (Roger Howarth); and the threat to Carly (Maura West) and Jack Snyder's (Michael Park) marriage.
Fans of As the World Turns also have two different ways to win wonderful prizes from the show. In a contest being sponsored by TVGuide, fans can enter their name to win a trip to New York and a walk-on role on As the World Turns. And fans of As the World Turns and Guiding Light also have a chance to win cash and other prizes in the new Daytime Dollar contest. Each weekday, a special code is shown during each soap's broadcast. If that code matches the code that you were emailed that day - you could win $500! Please note: Soap Central is not partnered with or responsible in any way for either of these contests.
As the World Turns has partnered with Simon & Schuster to release the book "Oakdale Confidential." The book, penned by an anonymous resident of Oakdale, reveals the hidden secrets of some of the show's major characters. For more on the novel and special contests, please click here.
Throughout its 50 years, As The World Turns has garnered 38 Emmy Awards, including four wins for Outstanding Daytime Drama Series and four wins for Outstanding Drama Series Writing Team. The show has earned 12 nominations for this year's Daytime Emmys - including nominations in both of the previously mentioned categories.