After four years on As the World Turns, Emmy-nominated Grayson McCouch (Dusty Donovan) will leave Oakdale in 2008.
There are two reasons cited for McCouch's exit. Both, unfortunately, have become commonplace in a time of budget crunches and shrinking ratings. A show insider says that McCouch was asked to take a salary cut, something even the biggest names in soaps have been asked to take. Published reports, however, say that McCouch simply wanted to leave the show.
How do you feel about Grayson McCouch's decision to leave ATWT?

I'm disappointed. I really enjoyed watching Grayson's Dusty on ATWT.
30%
I'd like Brian Bloom to return to the show. If he's not available, axe Dusty.
29%
I'm glad. I don't care for Dusty, so I'm not upset that McCouch is out.
18%
McCouch's Dusty never really grew on me. I want the role to be recast.
15%
I don't have any opinion about McCouch's exit at this time.
6%
Other
1%
Poll Posted: December 17, 2007
McCouch is the second actor to portray Dustin "Dusty" Donovan. Brian Bloom originated the role in April 1983 and remained with the show for five years.
In 1985
, Bloom was named Outstanding Young Man (now Outstanding Younger Actor) at the Daytime Emmys. The actor was nominated in the same category in 1986 and 1987.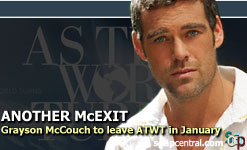 McCouch has also been honored for his work as Dusty, earning an Outstanding Support Actor Daytime Emmy nod in 2006.
No stranger to daytime television upon joining the As the World Turns cast in February 2003, McCouch appeared as Dr. Morgan Winthrop on NBC's Another World - a soap originally planned as an As the World Turns spinoff -- from 1993 to 1996.
This is not the first time that McCouch has been poised to leave Oakdale. In early 2007 the actor landed a lead role in the pilot for a police drama series called The Apostles. FOX opted not to pick up the series for its fall schedule and McCouch remained with As the World Turns. In is believed that The Apostles pilot could air as a made-for-television movie sometime in 2008.
McCouch taped his final As the World Turns scenes on December 14th. The actor was presented with a cake to celebrate his nearly-five-year run with the show. In an odd twist, it was also co-star Cady McClain's (Rosanna Cabot) final day at the studio as well. (For more on McClain's exit, visit our News Archives.)
"We don't comment on actor contracts," an As the World Turns spokesperson tells Soap Central.
McCouch takes his final bow on January 29.