Grayson McCouch (Dusty Donovan) joined the cast of As the World Turns in February 2003. During his four years with the CBS soap, McCouch earned an Outstanding Supporting Actor nomination in the 2006 Daytime Emmy race. McCouch's run with As the World Turns ended in January when his character met with an untimely demise.
McCouch is the second actor to portray Dustin "Dusty" Donovan. Brian Bloom originated the role in April 1983 and remained with the show for five years. In 1985, Bloom was named Outstanding Young Man (now Outstanding Younger Actor) at the Daytime Emmys. The actor was nominated in the same category in 1986 and 1987.
Prior to joining As the World Turns, McCouch enjoyed a three-year run as Morgan Winthrop on Another World. Like As the World Turns, Another World was then-produced by Procter & Gamble Productions.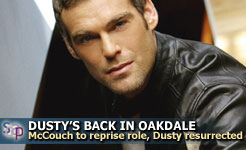 McCouch's exit was attributed to budget woes. An insider told Soap Central at the time that McCouch refused to take a salary cut. Other published reports hinted that McCouch wanted to explore acting opportunities outside of daytime. In 2007, McCouch had been poised to leave As the World Turns for a role on the primetime series The Apostles. The cop drama was ultimately not picked up and McCouch remained on As the World Turns.
A spokesperson for As the World Turns was unavailable for comment at post time.
McCouch returns on September 24th.