Could we have a new Empire on our hands? Such is the rumor regarding Hulu's upcoming original series, South Beach, which stars both Jacqueline MacInnes Wood (Steffy Forrester, The Bold and the Beautiful) and Jordi Vilasuso (ex-Griffin Castillo, All My Children; ex-Tony Santos, Guiding Light).
The six-episode drama will be available for streaming on Hulu, beginning Wednesday, July 29, and it promises to be chock full of the kind of drama that gets soap opera fans in a tizzy.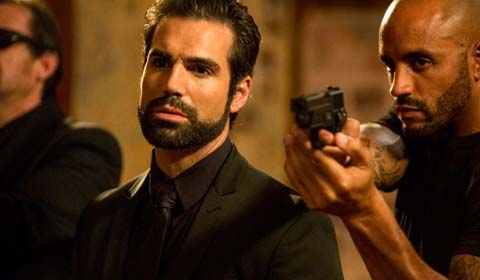 "South Beach -- where dangerous secrets refuse to stay buried in the sand," states the official show description. "Carmen Suarez (Ana Villafaņe), a gorgeous bilingual pop star, is about to embark on a world tour behind her latest #1 single,
Fahrenheit
. Carmen's upcoming tour is at the center of an escalating, bitter rivalry between Donovan Lear and Antigone de la Vega (Arlene Tur), who now run the two most powerful record labels in Miami. Donovan's estranged daughter, Samantha Lear (Wood), owns Fever, the hottest nightclub on South Beach. Samantha's life gets complicated when her flirting with Octavio Cruz (Manny Montana), Carmen's manager, turns into something more. Meanwhile, secrets turn deadly when Gus Garcia, the beloved Mayor of South Beach, is murdered. Lt. Erica Whitney (Marem Hassler) is mystified when the only clue left at the crime scene is the mark of 'The Ghost,' Miami's most notorious serial killer, thought gunned down 20 years ago. Across town, crime lord Isaac Santero (Vilasuso) is plotting a bold move to seize control of Miami's drug trade, with unexpected help from aspiring DJ Michael Bell (Denize Akdeniz). Revenge, passion, murder, betrayal -- emotions run high in the hottest place on Earth: South Beach."
What are your initial thoughts regarding South Beach? Are you looking forward to seeing Vilasuso and Wood share the screen? Share your thoughts in the Comments section below, on our message boards, or by submitting Feedback.

To stay up-to-date on the latest soap news, be sure to like us on Facebook and follow @soapcentral on Twitter.