Tripp Dalton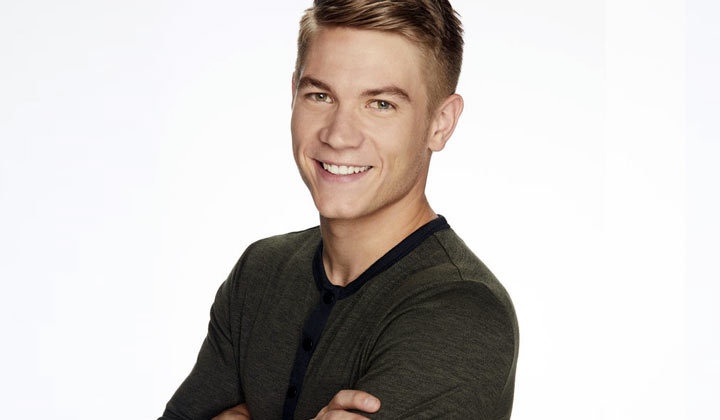 Lucas Adams
Born after Steve and Ava were seperated
Arrived in Salem at age 21 in 2017
An appartment in Salem
Formerly in Arizona
Single
None
Steve Johnson (father)
Ava Vitali (mother; deceased)
Veronica Dalton (adoptive; deceased)
Stephanie Johnson (half-sister)
Joey Johnson (half-brother)
Duke Earl Johnson (paternal grandfather; deceased)
Jo Johnson (paternal grandmother)
Jack Deveraux Sr. (paternal uncle; deceased)
Adrienne Josephine Johnson (paternal aunt)
Abigail Deveraux (paternal cousin)
J.J. Deveraux (paternal cousin)
Joey Kiriakis (paternal cousin; via adoption)
Victor Kiriakis II (paternal cousin; via adoption)
Jackson "Sonny" Steven Kiriakis (paternal cousin)
Angelo Vitali (maternal cousin)
Eddie (maternal cousin)
Earl Duke Johnson (paternal great-uncle)
None
None
Various minor crimes and mischief when living on his own (prior to 2017)
When Ava Vitali returned to Salem in 2016, she told Steve that she'd had his child years ago, and her father forced him to give the child up for adoption. Unsure of whether to believe her or not, Steve and Ava went to look for this baby. However, the man who was involved with the adoption told them both that the baby had died. In the spring of 2017 (after Ava's death) the man returned to tell Steve that the baby was very much alive and had been adopted by another family. Steve set out to look for the child.
Steve's chase lead him to Arizona where a drifter/small-time criminal turned out to be his son - Tripp Dalton. Steve convinced Tripp to come back to Salem with him to meet the rest of his family. Tripp had not had an easy home life -- his adoptive parents were not very loving. Anxious to hear more about his new genealogy, Tripp went with Steve. He bonded with his new half-brother, Joey. But, he continued to ask Steve about his mother.
However, Steve was reluctant to tell Tripp much about his biological mother, both because her mental illness left her very unsteady most of her life, but because Joey -- Tripp's half-brother-- was the one who killed Ava. Joey believed Ava would continue to torment his family, so he smothered her with a pillow when she was in the hospital. Steve took the blame for the crime earlier, so now had to perpetuate the lie with Tripp.
As soon as the surviving Vitali family members learned of Tripp, they reach out to him too -- offering him a different version of his mother as well as a hefty inheritance, as she was his only surviving heir. Tripp took the money. But, he still wanted answers surrounding her death.
Steve told Tripp that the ISA ordered him to kill Ava. But, Tripp didn't buy it. He thought Steve was covering for someone. As Tripp simultaneously learned of his mother's crimes against Kayla as well as Steve pattern of taking the blame for his loved-ones crimes, he started to suspect that Kayla killed Ava and Steve took the blame for her.
Upon arriving in Salem, Tripp struck up a friendship with Joey's ex-girlfriend, Jade. Jade -- who knew the truth about Joey killing Ava -- blamed Kayla for her relationship with Joey ending, and desperately wanted him back. So, when Tripp asked Jade if Kayla was the one who killed Ava, Jade seized the opportunity to get revenge on Kayla. Jade confirmed Tripp's suspicions about Kayla. Together, they plotted to take Kayla down.