OUTSTANDING GUEST PERFORMER
Obba Babatundé
(
Julius Avant
,
The Bold and the Beautiful
)
For just the second time, Emmy voters had the opportunity to honor actors hired to appear in daytime on a limited basis. The roles are typically played by well-known actors and must be roles that first appeared during the Emmy calendar year.
The Bold and the Beautiful's Julius Avant may not exactly be the warmest and fuzziest character on daytime television, but actor Obba Babatundé beamed like a proud poppa bear during his backstage acceptance speech.
"You know what, I talked [on-stage] about the entire family of The Bold and the Beautiful, but I can name Karla Mosley (Maya Avant), who is absolutely a brilliant actress, who I think sensationally might have been overlooked in this circumstance and situation, but she identifies herself as a true warrior and winner, and she is a winner tonight, and I'd like to acknowledge Karla," Obbatunde beamed from the microphone in the press room. "Also Reign Edwards (Nicole Avant), who also plays my daughter. These young ladies on this show, if they were not my daughters on the show, I would have them be my daughters in actual real life. They're sensational. And of course the other half of Julius Avant is Vivienne Avant, played by and portrayed by the brilliant Anna Marie Horsford. Each one of these individuals have made up the Avant family and I'm thrilled to get a chance to work with them every single time, and I acknowledge them all publicly."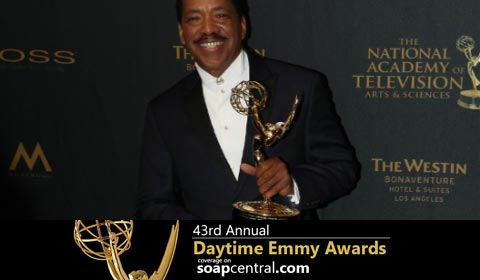 Last year when the Guest Performer category was first introduced, it was awarded during the non-televised Creative Arts ceremony. This year, the category was moved to the main ceremony with the other acting awards.
Entering into Emmy night, Babatundé was a clear favorite to win the award with nearly every one of Soap Central's experts picking the actor to win. Even if the win was expected, it left Babatundé in an unusual place.
"It feels sensational. It's a joy unspeakable, to be perfectly honest with you, I'm very seldom lost for words," the actor admitted with a hearty laugh. "But this is an opportunity where I can say... nothing is more precious than silence. This might be one of those experiences."