Another popular former soap star is headed back to television screens across the country. General Hospital has hired former The Young and the Restless star Scott Reeves for the role of Steven Lars Webber. The Emmy-nominated actor will be the third actor to tackle the role and the first since 2005.
Reeves is familiar to daytime audiences for his work as Ryan McNeil on CBS's top-rated The Young and the Restless. In addition to being popular with fans, Reeves was also popular with the Daytime Emmy voting panel. The actor received two Emmy nominations in the Outstanding Supporting Actor field during his ten-year run on Y&R.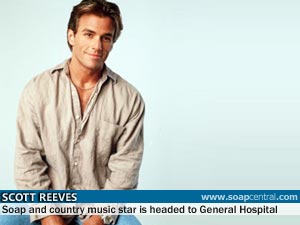 In addition to his Y&R role, Reeves also appeared as Jake Hogansen on NBC's Days of our Lives in 1986. Reeves also has another connection to Days of our Lives. In 1990, the actor married then-DAYS star Melissa Brennan. Scott and Melissa Reeves currently reside in Nashville, and Scott will commute to Los Angeles when he is needed on General Hospital.
Since leaving active daytime duty in 2001 when his Y&R alter ego was shot and killed, Reeves has focused on his music career. Along with partner Aaron Benward, Reeves makes up one-half of the country duo Blue County. The pair is known for hits such as "Good Little Girls" and "That's Cool."
It's been four years since Steven Lars Webber was last seen in Port Charles. Played by Shaun Benson from September 2004 to May 2005, Steven simply faded into the background and vanished from the canvas with little fanfare.
Reeves will make his General Hospital debut on December 9. According to story outlines, Steven will be named as the new chief of staff at General Hospital.
The role is currently slated as recurring.
---