Port Charles' most famous guest star is ready to check back in to General Hospital. As reported earlier this year by Soap Central, James Franco (Franco) isn't quite done yet with his daytime dabbling. ABC is now confirming that the Golden Globe nominee will be seen on-screen on General Hospital this summer.
"Working on General Hospital was a great experience," Franco said in a statement. "I love the cast, writers, directors, and producers. They have become a new family for me. I can't wait for the work we will do this summer."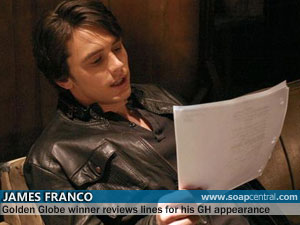 "We are so thrilled to welcome James back to General Hospital," added executive producer Jill Farren Phelps. "We had such a great time with him and are very excited that he decided to return to Port Charles to take care of unfinished business."
What unfinished business might Franco need to tend to? In an op-ed piece published in the Wall Street Journal in December, Franco offered some hints to what might be in store.
"After all of the Franco episodes are aired, my character's storyline will be advanced in a special episode filmed in a 'legitimate' New York gallery," Franco wrote. "One more layer will be added to this already layer-heavy experiment. If all goes according to plan, it will definitely be weird. But is it art?"
In a press release, ABC states that "the wickedly brilliant Franco [will] take the citizens of Port Charles on a wild ride of mystery, music, murder and mayhem." The storyline will feature Franco's continuing obsession with Jason -- and everyone in Port Charles will be in peril. The network also promises "the viewing audience will be treated to performance art the likes of which they've never seen before.
has learned.


---> Franco's previous run on General Hospital last fall lasted 23 episodes. Amazingly, all those scenes were taped in just three workdays. It is unclear how long Franco will appear on the canvas this time, but his first appearance airs June 30