Bill Eckert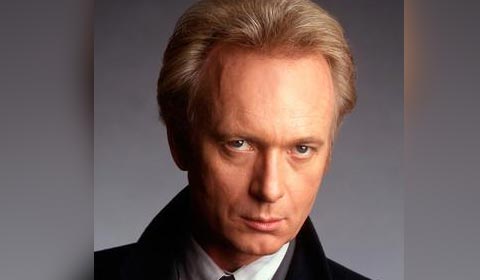 February 19, 1991 to November 16, 1993
Shot and killed under the orders of mobster Frank Smith when he was mistaken for Luke Spencer [Died Nov 15, 1993]
Ran Harlan Barrett's cannery with Julia Barrett
Former head engineer on the crew salvaging the SS Tracy for Harlan Barrett
Inventor
Former crew member on the SS Tracy
Fred Eckert, Bill's father, was a baker who owned his own business on Van Ness Road
The Lighthouse
Single/Divorced from Nancy Eckert [divorced prior to 1991]
Nancy Eckert (divorced; deceased)
Fred Eckert (father; deceased)
Angela Eckert (mother)
Jenny Eckert (sister)
Lena Spencer (aunt; deceased)
Lucas "Luke" Lorenzo Spencer (cousin)
Barbara Jean "Bobbie" Spencer (cousin)
Patricia Spencer (cousin)
Ruby Anderson (aunt; deceased)
Carly Corinthos Jacks (cousin, once removed)
Lucas Jones (adoptive cousin, once removed)
Lucas Lorenzo "Lucky" Spencer, Jr. (cousin, once removed)
Ethan Lovett (cousin, once removed)
Lesley Lu Spencer (cousin, once removed)
Valerie Spencer (cousin, once removed)
Sly Eckert (son; with Nancy)
Victoria (lovers, prior to 1991)
Nancy Eckert (deceased)
Julia Barrett (dated)
Holly Sutton (lovers)
Victoria (lovers)
Suspect in the murder of his ex-wife [Finian O'Toole was revealed to have accidentally killed Nancy]
Shot and killed Harlan Barrett after Harlan held a gun on Robert Scorpio
Unknowingly joined an evil cartel that included Harlan Barrett, Cesar Faison, Larry Ashton, and Leopold Taub
Did not reveal that Luke Spencer had accidently killed his mother Lena Spencer (allowed everyone to believe that Tim Spencer was responsible for Lena's death) [Apr 1, 1963; revealed Apr 1, 2015]
Conspired with Patricia Spencer to hide Tim Spencer's body in a wall in the basement of the Spencer childhood home after Luke Spencer had murdered Tim [Apr 1, 1963; revealed Apr 1, 2015]
Inhaled carbon disulfide
Was mistaken for Luke Spencer and was shot and mortally wounded by Frank Smith's associates [Nov 15, 1993]
Bill Eckert, cousin to infamous Port Charles residents Luke and Bobbie Spencer, arrived in Port Charles as a crew member on the Quartermaine ship SS Tracy. When the ship sank, Harlan Barrett hired Bill to salvage the boat. Harlan was impressed with Bill and hired him to run a cannery with his daughter Julia Barrett. Around the same time, Bill's father passed away, and he received an inheritance. He moved into an abandoned lighthouse with his son Sly and his housekeeper Finian O'Toole and began dating Julia.
Unbeknownst to Julia or Bill, Harlan was a member of a cartel that included Cesar Faison, Larry Ashton, and Leopold Taub. The cartel planned to use carbon disulfide to overtake the global economy, and the cannery secretly manufactured the substance. Bill's ex-wife, Nancy, accidentally stumbled upon the truth in her quest to gain custody of Sly, and she allowed Bill to inhale carbon disulfide before a custody hearing. However, Nancy was accidentally killed soon after during a heated argument with Bill's housekeeper, Finian.
The cartel wanted to recruit Bill, but Faison demanded that he prove his worth first. Faison ordered Bill to eliminate Robert Scorpio. Robert and Bill were close friends, and they faked Robert's death, but Harlan uncovered the truth. Harlan held a gun on Robert, but Bill shot and killed him first. The cartel soon disbanded after Leopold Taub was also killed, while Faison and Larry Ashton escaped.
While on assignment for the WSB, Robert was presumed deceased, and Bill became involved with Robert's, widow Holly. Together, they investigated an art heist, which led Bill back to the arms of a former lover in Paris, although he and Holly were exclusive. When Holly found Bill in bed with another woman, she ended their relationship.
Holly left town, and Bill offered to help his cousin Luke and Luke's wife Laura deal with mobster Frank Smith. Bill took in Luke and Laura's son, Lucky, and tried to protect both Sly and Lucky when one of Frank Smith's hired thugs attacked. Bill was mistaken for Luke and was shot and killed. He died in Luke's arms.
Years after Bill's death, it was revealed that he had met his cousins Luke and Patricia Spencer on the night that Luke and Patricia's mother was killed. On that night, Bill and Patricia arrived at the Spencer home on Elm Street and discovered that after Luke had accidentally killed his mother while defending her from Luke's father Tim, he killed his father. Together Patricia and Bill hid Tim's body in the wall of the basement and they concocted a cover story to explain Tim's disappearance. They never spoke of what Luke had done and Luke blocked out what had occurred. When Luke remembered the events of that evening several years later, he recalled Bill's dying words which instructed Luke to forgive himself for what had happened to his mother.

Post a Comment

Share on Facebook

Tweet this

Submit Feedback