Contrary to reports on some Internet web sites, Rebecca Herbst (Liz Webber) is not leaving General Hospital.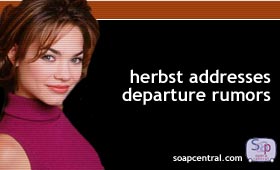 "As you may have heard, Steve Burton (Jason Morgan) is returning. His return WILL affect Becky's storyline," reads a statement on Herbst's official web site. "Thus you will be happy to know that Becky will be part of the GH cast for sometime to come."
The GH casting department had been looking for young actors to play the part of "Aidan," a character that was rumored to have been a new romantic interest for Herbst's Liz. However, with the re-signing of Burton to the show, the character was scrapped.
Herbst joined General Hospital in August 1997.