Despite what you may have read elsewhere on the Internet, Kimberly McCullough (Robin Scorpio) is not returning to General Hospital.
Rumors of McCullough's supposed return was first heralded in a press release that began making the rounds on the 'net in January. The press release offered glowing praise for McCullough by Brian Frons, President of ABC Daytime, as well as a statement by McCullough herself.
The press release, however, is an elaborate hoax.
"I'm thrilled to welcome Kimberly back to General Hospital," Frons was quoted as saying in the so-called "official" press release. "Throughout Robin's HIV storyline, she proved herself to be a remarkably talented actress. Robin is a very important part of the show's history."
The press release even went as to discuss storylines planned for the actress' return.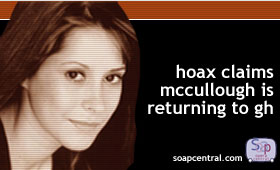 "Fans can look forward to an emotional return between Robin and her gravely injured uncle, Mac, as well as ex-lover Jason," co-head writer Charles Pratt, Jr. was quoted as saying. "Along the way, viewers will also learn of her own hardship which Robin recently had to face."
"After being away from daytime for six years, I realized how much I miss my friends at General Hospital," McCullough was said to have stated in the release. "I can't wait to begin working."
McCullough joined the cast of General Hospital in August 1985. In 1989, McCullough earned her first Daytime Emmy Award for Best Juvenile Performer under the Age of 23. At age 11, McCullough was the youngest actress to have the award. McCullough received four additional nominations in 1990, 1991, 1994 and 1995 before again winning a Daytime Emmy in 1996 in the renamed Outstanding Younger Actress category.
In 2001, McCullough briefly reprised her General Hospital role - on All My Children.
Many fans, who no doubt would love to see McCullough again bring Robin back to General Hospital, have flooded Soap Opera Central with email demanding that the news of McCullough's return be posted on the site. It's more than likely that one of those overzealous fans had a hand in creating the bogus press release.
"When are you going to announce Kimberly McCullough's return to General Hospital? The fans are waiting!" wrote one Soap Opera Central visitor earlier this month.
McCullough, however, is returning to television - just not daytime television. The actress has landed a recurring role on the upcoming CBS sitcom The Stones. The new series debuts March 17th.