Beverlee McKinsey (ex-
Alexandra Spaulding
, Guiding Light; ex-
Iris Cory Carrington
, Another World and Texas) died on May 2nd, of complications from a kidney transplant. McKinsey initially had kidney transplant surgery in 1998. The actress' age is given variously as 68 or 72.
Michael Logan, TV Guide's soap columnist, once called McKinsey "...the greatest actress ever to grace daytime drama". She was the original Alexandra Spaulding on GL, and was the only daytime actress to ever get star billing, for her role of Iris Cory Carrington, in the AW spin off Texas.
McKinsey was famous for walking away from her role on Guiding Light in August 1992, at the height of her career. On the last day of work before her regular eight week summer vacation, McKinsey employed a loophole in her contract and quit, considering the eight weeks to be more than ample notice. A clause had been written into her contract allowing her to quit at the end of every six month cycle with relatively little notice. Her decision stunned the soap world, particularly the show's then- executive producer Jill Farren Phelps, who had no idea the clause existed.
McKinsey was unmoved by the outrage of her employers. "[If] they're bent out of shape, it's because, for once somebody beat 'em at their own game," she said. "I had warned Jill - although I don't think she paid attention to me - that I was not happy. I was not happy with the storyline."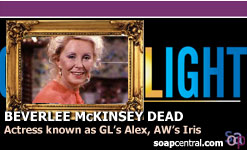 She had confided in Phelps previously that she was frustrated enough to quit, and was told in response that perhaps she should read her contract. McKinsey later quipped that perhaps it was Phelps and the rest of the GL production team who should have read the contract.
"They didn't read the contract! I read it very closely. I knew every word. The next day, they were all combing over the contract. Somebody said, 'Maybe Beverlee's not familiar with the contract.' Well, of course she was! She wrote it, you bozos. She wrote it! I've had this out clause since 1986. I asked for it and it was P&G that determined how much notice they wanted me to give -- and they chose eight weeks."
In addition to her issues with storytelling, which she said would not have motivated her to leave if her working environment had been happier, McKinsey noted that acting had simply stopped being fun for her. "The hours just made me crazy. They were too long," she explained.
She briefly returned to acting in 1994, as Myrna Slaughter on General Hospital, stating that the reason for it had to do with her medical insurance, but considered herself adamantly retired from soaps from that moment in 1992 when she last left the set of GL. McKinsey lived in California near her son, GH and Port Charles director Scott McKinsey, and enjoyed her time with her grandson, Marley McKinsey.
McKinsey was nominated four times between 1977 and 1980 for a Daytime Emmy award for Outstanding Lead Actress, for her role as Iris on Another World.