Roger Howarth (Todd Manning) has confirmed on his official fan club web site that he will, in fact, be exiting his role on One Life to Live when his contract expires later this year. Soap Opera Central first reported that Howarth planned to exit OLTL in February.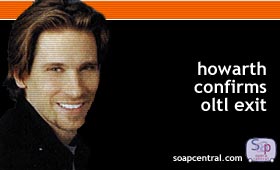 The good news for fans, if there can be any in the situation, is that Howarth's exit has now been pushed back. Howarth's contract expires in May, but the actor has agreed to stick around for a few additional weeks in order to "tie up storyline for the show."
Howarth has routinely been one of One Life to Live's most popular performers. Howarth has been rewarded many times over for his work in Soap Central's "Dankies" awards, winning six awards in the past two years.
This extreme popularity may make the news of some fans' attempts to have the role of Todd Manning recast a bit of a surprise.
"Todd is far too important to the show," writes on fan on Soap Central's OLTL Online message board. "While I love Roger dearly and wish that he'd stay on the show, if he wants to leave then the show needs to [recast] the role."
An OLTL spokesperson declined to comment on the news of Howarth's departure even though the actor has already confirmed that he will leave the show.
Howarth will tape his final OLTL scenes on June 2nd during the show's remote shoot in Hawaii. Those scenes will air sometime in mid-July.