There's a burning question making its way around the Internet. It was only a matter of time before the rumor started blazing across the Soap Central message boards. Start with a single rumor, throw in one soap's cancellation, and add the odd placement of an old photograph -- and you've got an explosive combination.
So with all that fanfare, you may be wondering, "What's the question?" The question -- is Roger Howarth returning to his Emmy-winning role as Todd Manning on ABC's One Life to Live? -- is simple. It's the answer that gets, well, just a little complicated.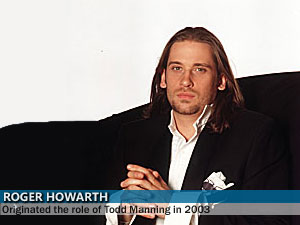 Ever since it was announced last year that As the World Turns would end this September, One Life to Live fans have been wondering if network executives would make an effort to lure Howarth back to the show. It's been seven years since Howarth last appeared as Todd Manning. In that time, actor Trevor St. John has taken over as Todd and put his own stamp on the role.
So it was quite surprising when, several weeks ago, One Life to Live broadcast an old photo of Todd -- and it was Howarth, not St. John, in the image. With a wink, a character also uttered a line stating that St. John was "not Todd Manning."
Fans raced to their computers to figure out the meaning of the scene. Was it crafted merely to get fans talking, or was it a hint to viewers that something big was coming down the pike?
Soap Opera Network web site reports that it has "learned exclusively that Howarth will indeed be returning to the ABC soap in the near future."
Citing unnamed sources, the site teases that Howarth will be back by January, and points to that now-infamous photo as proof that something is happening behind the scenes.
"You thought the tease a couple weeks back with Téa proclaiming this isn't Todd as she pointed to a picture of Roger Howarth was not the start of something bigger? Think again," says a setside source.
Soap Opera Digest columnist Carolyn Hinsey, however, downplays the report of Howarth's imminent return.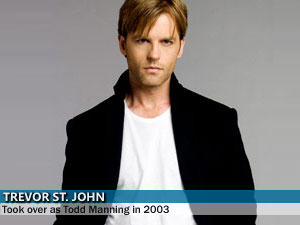 "Seriously, stop with the Howarth misinformation here please," Hinsey posted on her Facebook page. "He is not coming back to OLTL. Case closed."
Among those who believe that Howarth will return to One Life to Live, there are two factions, factions divided by how they believe the actor will be written back into the show.
The first group believes that St. John has been an imposter posing as Todd for the past seven years. The second group believes that Howarth will return as a new character, just as General Hospital did when Sarah Brown, the show's original Carly, returned as Claudia Zacharra.
For now, ABC has yet to issue a statement regarding the Howarth rumor. Officially, an ABC spokesperson reminds Soap Central that network policy prohibits the discussion of contracts and rumors. What is known, however, is that Howarth will continue to air on As the World Turns as Paul Ryan until the series' finale on September 17.
Our Two Scoops columnist weighs in on the pros and cons of a Howarth return. [Aug 30, 2010]