Long time OLTL viewers will remember that Megan was first introduced back in 1988 when she showed up in Llanview to star in the soap, Fraternity Row. It was revealed shortly thereafter that Megan was actually Victoria Lord Buchanan's daughter. When she met a stranger named Jake Harrison, who was hired to spy on her by Michael Grande, Megan's life was about to change forever. Michael Grande was murdered, Megan was the charged with his murder and falsely convicted. When the real killer was found to be her father, Roger Gordon, who killed Michael Grande in self-defense, Jake and Megan were free to be together. Carlo Hesser kidnapped Megan's sister, Sarah. Devastated by the kidnapping of Sarah, Megan asked Jake to get close to Charlotte Hesser, but her plan backfired and Jake was then forced by Carlo to marry Charlotte. Jake finally freed himself from Charlotte and Megan and Jake found each other again. They were married, but Jake disappeared and Megan was diagnosed with Lupus. Megan's health failed and Viki donated a kidney to save her - but the kidney was rejected. As Megan's health continued to fail, her last wish was to see Jake again. Andrew Carpenter, who was in love with Megan, took it in his own hands to find Jake and bring him to Megan. Jake returned and Megan died in his arms.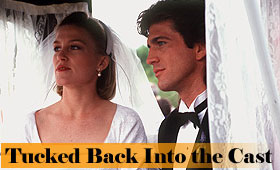 The 36-year-old New York born actress has been busy since her departure from OLTL. She has been seen in several television and motion pictures including: A Woman Named Jackie (1991), Mr. Write (1994), Revenge of the Nerds (1994), The O.J. Simpson Story (1995), Batman Forever (1995), The Advocate's Devil (1997), and most recently Billboard Dad (1998) and the voice of Chris on The Brave Little Toaster Goes to Mars (1998). T.V. guest appearances have included: Millenium, Party of Five, NYPD Blue, Murder One, Seinfeld, Diagnosis Murder, Murder, She Wrote, Home Improvement, and ER.
Today she hopes to add directing to her many talents and can be found hanging out around the OLTL set as she gets some pointers from producer, Frank Valentini.
Jessica is currently awaiting a decision by CBS to air two new pilots in which she appears. A comedy - Chicago's Finest with Jeremy Piven, and a drama, Shades of Gray with Tyne Daly.