Deanna Forbes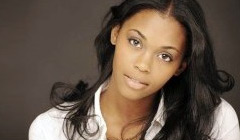 Nafessa Williams
Unemployed
Starred in Rick Powers' porn movie, "Hold the Diploma" [Jul 2011]
California
Previously in Llanview, PA
Previously Dayton, Ohio
Single/Never Been Married
None known
Unknown
None
James Ford (dated, pre-June 2010; kissed, April 2011)
Nate Salinger (had sex during filming of porn movie, Jul 2011)
None
None known
Deanna Forbes arrived in Llanview in March 2011 and checked into the Minute Man Motel, where she began keeping tabs on James Ford via his MyFace account. Deanna was disappointed to see that James was in a relationship with Starr Manning and falsely believed that James' nephew Ryder actually was his son. When Deanna went to see James for herself, Jessica's alter Tess told Deanna that James didn't want to be her friend or have anything to do with her. Crushed, Deanna considered leaving Llanview but decided to stay after a guy named Rick offered to make her a star, unaware that Rick was a porn producer.
Deanna was reluctant to star in the porn film but decided to go ahead when Rick offered her instant cash. Just before the filming began, however, James showed up and pulled Deanna out of there. Deanna kissed James but he pulled away, reminding her that she had broken up with him and explaining that he was seeing someone else now. Deanna told James she had no cash, not even enough to get home, so James invited her to stay at his brother's apartment overnight. Starr was not pleased to find out about the sleeping arrangements after the fact and invited Deanna to stay with her at LaBoulaie for the night. The next morning, Deanna told Starr that she was going to go back to Dayton. But for she left, she told James she needed to explain why she had dumped him. Deanna explained that James' father had conned her into breaking up with James. He had given her the name of man who knew the whereabouts of her mother, who had given Deanna up as a baby, but after Deanna broke it off with James the man demanded $20,000 for the information. When Deanna returned to tell James what had happened, he had already left town. Deanna later told James and Starr that she was going to stay in Llanview, because there was nothing left for her in Dayton.
Deanna's presence caused trouble for James and Starr, so James' brother Nate Salinger offered to let Deanna stay at the apartment he shared with his mother. Deanna and Nate got along very well, causing Nate's girlfriend Dani to feel threatened. Nate confided in Deanna that he and Dani hadn't had sex yet. Deanna was shocked when Nate told her that he had punched Matthew Buchanan in the face after learning that Matthew had killed Nate's father Eddie Ford and that Matthew was near death as a result. Rick overheard the conversation and promised to stay quiet if Nate and Deanna would star in his new sex film, Hold the Diploma. To sweeten the pot, Rick got the information on Deanna's birth mother that she had been desperately searching for and offered to hand it over if they filmed the porno. Deanna and Nate reluctantly agreed to shoot the porn. Deanna quickly searched through the file and learned that her mother was living in California. She bid Nate goodbye before leaving left town to search for her.

Post a Comment

Share on Facebook

Tweet this

Submit Feedback