If your local office supply store seems to be running low on pens and pencils, there may be a very good reason. Passions creator James E. Reilly is said to be in the process of creating two spin-offs and a primetime tele-movie based upon the NBC soap.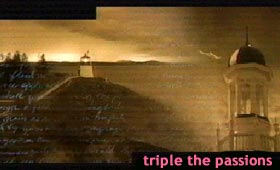 TV Guide reports that NBC has hired Reilly to begin working immediately on a Saturday morning children's program tentatively called Harmony High. It is said that NBC believes that Reilly can help bolster the network's Saturday morning lineup -- and possibly lure some additional younger viewers to the weekday afternoon offering of Passions.
There's just one minor glitch. In order for the Saturday morning version to be able to hit the airwaves, the show will have to meet guidelines set by the Federal Communications Commission (FCC). Harmony High would need to meet certain FCC educational and informational requirements for a spot on the Saturday schedule. Reilly is reported to already have a pilot for the series wrapped up, and the show could conceivably hit the airwaves as early as the first quarter of 2002.
One of Reilly's other projects for the Peacock network is a primetime movie based upon Passions. Passions would not be the first soap to go primetime. Guiding Light and Days of our Lives have already had primetime tele-movies and Port Charles made its debut as a two-hour TV movie.
The last project is a primetime series that will also be based upon Passions. Reilly says that the primetime show will not be a copy of Passions "but they will have quirky twists and an element of soap."
At this time it isn't clear how many -- if any -- of the current Passions performers will migrate to the new shows. It's widely believed that at least some of the characters will make appearances on the new shows and vice versa. Reilly has hinted that some of the oft-mentioned but never seen Passions characters could pop up on the spin-offs rather than Passions itself.
The news of Reilly's other projects may not sit well with fellow NBC soap creator Ken Corday. Corday is the man responsible for Days of our Lives and has been talking up the idea of having a kid-friendly spin-off of DAYS called Salem High. It is unclear if NBC would be interested in having two soap spin-offs on its weekend roster or if Corday's NBC contract prohibits him for shopping the proposed show to other outlets.
Reilly's contract with NBC should lay to rest rumors that the scribe is being courted by other networks, including The WB.