Angela Shapiro, President of ABC Daytime, has been tapped to become the president of the ABC Family Channel. Shapiro will remain at ABC Daytime until a successor is found.
Shapiro has a long history in the soap opera genre. Shapiro co-founded both Soap Opera Digest and Soap Opera Update in 1975 and 1988, respectively. Shapiro also served a publisher for both magazines.
In 1995, Shapiro joined ABC Daytime as a senior vice president in marketing and promotion. Just three years later, Shapiro got a chance to show off those skills when she was promoted to President of ABC Daytime.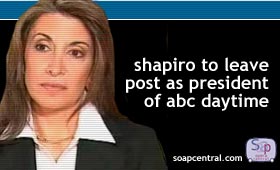 During her tenure as President of ABC Daytime, Shapiro quickly became recognized as a champion of the soap fans. Shapiro implemented some stunning, yet effective changes to the network's programming. In the late 1990s, Shapiro created the idea of using "refreshers" and "previews" for each of the shows. The "next time previews," which are still in use today, have been overwhelmingly welcomed by fans who crave information about what's to come. The previews have also prompted fans of other networks' soaps to petition for their own teasers.
Shapiro also created the idea of "synergy" between the network's four soaps - Port Charles, All My Children, One Life to Live and General Hospital. Though the idea wasn't well-received by some fans and a handful of critics, the idea behind the synergy concept was to link together all of the ABC soaps. The process involved crossovers by characters from one soap to another - and sometimes to more than just one other soap. During a six month period, Emmy winner Linda Dano saw her character, Rae Cummings, travel to all four ABC soaps. The resulting crossovers were designed to entice viewers to tune into soap operas that they might not have usually watched.
Perhaps Shapiro's most lasting legacy at ABC Daytime was her creation of the network's Super Soap Weekend. The event, held in conjunction with ABC parent company Disney, is held each fall at Disney World/MGM Studios in Florida. This year, the event expanded with spring dates at Disneyland in California. The annual events allow soap fans to meet their favorite ABC soap stars.
In her new role at ABC Family Channel, Shapiro will oversee the channel's day-to-day operations, including the development of original programming. According to a network spokesperson, Shapiro will also be involved in finding her replacement at ABC Daytime.