2019 is coming to a close, and staffers at Soap Central have it on good authority that Kleenex hit record sales this year. After all, tons of tissues were needed to dry the tears of fans who tuned in to The Bold and the Beautiful, The Young and the Restless, General Hospital, and Days of our Lives -- all of which killed off some pretty beloved characters in the last 52 weeks. In honor of those we've lost, Soap Central has compiled a Year in Review list of the most gut-wrenching, shocking, and memorable deaths of 2019.
Adrienne Kiriakis and Jordan Ridgeway, Days of our Lives
In November of this year, DAYS went where no soap had gone before with a time jump storyline that took the world of Salem one year into the future. Unfortunately, the revolutionary time jump led to two casualties that shocked viewers: both Adrienne Kiriakis (Judi Evans) and Jordan Rideway (Chrishell Hartley) were revealed to have died in the year viewers didn't see. And not just "died," but they were murdered. And not just murdered, but murdered at the hands of people who supposedly loved them. When the time jump kicked off, viewers were stunned to see that Will was in prison for killing Adrienne, the mother of his husband, Sonny (Freddie Smith), while Ben (Robert Scott Wilson) was in the slammer for killing Jordan, his sister. Both storylines are still playing out, and one never knows what the future may hold. However, if the deaths turn out to be final, it means the regretful loss of Hartley, who has been a fan favorite since she joined DAYS in 2013, and Evans, who has been a beloved Salem staple since 1986.
Caroline Spencer, The Bold and the Beautiful
B&B characters were blindsided by the sudden death of Caroline Spencer (Linsey Godfrey) in the spring of 2019, as were viewers of the CBS soap opera. Though Godfrey hadn't appeared in the role since the previous year, the show gave no indication that they were going to axe the character so abruptly. Alas, the loss of the character felt like a real death -- with no warning -- and the subsequent funeral scenes were aptly emotional. Even Godfrey was surprised about Caroline's sudden demise. The actress, who had by that point taken on the role of Days of our Lives' Sarah Horton, took to social media in reaction to her former alter ego's death, writing, "So I just got back from Caroline's funeral. It was beautiful. It appears it's time to say goodbye to our Caroline Spencer... but don't worry: I hear Caroline has a brunette doppelgänger over in [DAYS'] Salem, might be worth investigating."
Cassandra Pierce, General Hospital
A lot of baddies have come and gone from Port Charles over the years, but Cassandra Pierce (Jessica Tuck) is a gem from that long list. In several "I am woman, hear me roar" moments, the drug kingpin made a lot of shocking moves after arriving on the scene in 2017. Some of her biggest moments included blackmailing Valentin (James Patrick Stuart) into returning to drug trafficking, attempting to knock off mobster Sonny (Maurice Benard) so she could control the PC drug market, causing Finn (Michael Easton) to fall off the wagon, and kidnapping Charlotte (Scarlett Frenandez) to once again get Valentin to do her bidding. The latter move was her undoing, however. After releasing the child, Cassandra thought she was sailing off into the sunset scot-free on a boat Valentin had provided, but the protective father had rigged an explosion that blew her to smithereens.
Drew Cain, General Hospital
The death of GH's Drew Cain happened off-screen, with residents of Port Charles being horrified to learn that he had perished in a plane crash in September. But the fact that the death scene itself wasn't front and center didn't lessen the impact of the character's demise, which was sad mostly because fans believed that the ABC soap opera had wasted the talents of the character's portrayer, Billy Miller, and never should have let him go.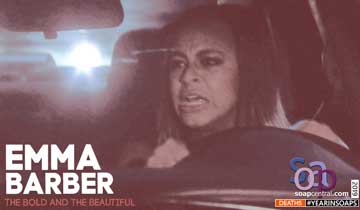 Emma Barber, The Bold and the Beautiful
The character of Emma (Nia Sioux) wasn't around for long, having come to the canvas in April of 2018. But her death still rattled viewers, mostly because of the tense storyline it was a part of and the eerie way the character's demise was shot. As fans may recall, 2019 only saw very sporadic appearances by Emma -- that is, until she popped up in June, having overheard Xander (Adain Bradley) and Zoe (Kiara Barnes) talking about Hope's baby still being alive. Being the kind, big-hearted person she was, Emma couldn't understand why everyone was keeping the baby news secret and defied Thomas' (Matthew Atkinson) threats to keep quiet. As she rushed to tell Hope (Annika Noelle) the good news, Thomas ran Emma's car off the road, killing her. The moment was shocking in and of itself, but Emma's death was made all the more chilling by the shots of Thomas standing over the edge of the cliff and coldly watching as she took her last breath.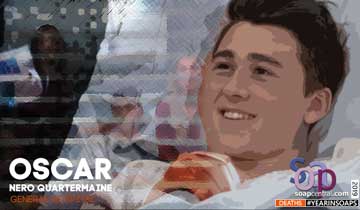 Oscar Nero, General Hospital
There wasn't a dry eye in the house when a tumor took the life of Port Charles teenager Oscar Nero (Garren Stitt) in April. He and his loved ones knew in advance that he had limited time on the planet, which made for some extremely sad scenes in the months leading up to his death -- mostly of the teen snatching up every life experience he could with his girlfriend, Josslyn (Eden McCoy). The teen pair was inseparable as Oscar approached his end, and he eventually -- despite the repeated hope of miracle cures -- passed away in his new room at the Quartermaine mansion with Josslyn right by his side.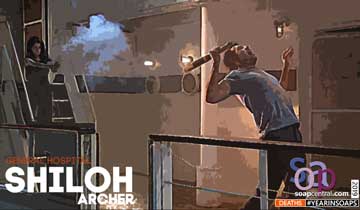 Shiloh Archer, General Hospital
Fans of GH knew it was only a matter of time before somebody on the canvas killed Shiloah -- a.k.a Hank Archer. After all, the character oozed a creepy ick factor the moment portrayer Coby Ryan McLaughlin appeared on the screen. The character's ick factor continued to get worse throughout the summer as he reigned terror on Port Charles as the serial rapist leader of the Dawn of Day cult, which nearly took the freedom and lives of characters like Kristina Corinthos (Lexi Ainsworth). Shiloh's final act was the attempted rape of Sam (Kelly Monaco) on the Haunted Star, a brutal crime that was cut short first by Jason (Steve Burton) interrupting, and then by Sam shooting the cult leader in the chest with a flare gun. Watching Shiloh fall overboard while screaming in pain was particularly satisfying for viewers who'd had enough of the character's slimy terrorization.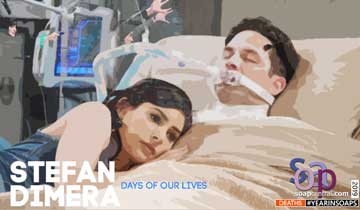 Stefan DiMera, Days of our Lives
Fans were thrilled when the powers that be brought the character of Stefano to the canvas along with the return of his villainous mother, Vivian (Louise Sorel), in late 2017. Stefan oozed with the aura of his late father, Stefano (Joseph Mascolo), and proved to be quite the force for Salem to reckon with, both as the CEO of DiMera Enterprises and as the smouldering hottie who bedded both Abigail (Marci Miller/Kate Mansi) and Gabi (Camila Banus). However, the antics of his manipulative mother were his eventual doom. Vivian shocked everyone when, after having been shot by Kate (Lauren Koslow) in 2018 and presumed dead, she returned from the grave this year, set on taking her revenge. Stefan tried to keep his mother under control, but her violent shenanigans led to tragedy when he jumped in front of a bullet fired by Lani (Sal Stowers) in order to save her life. Stefan's death was a tough pill to swallow, but it was made all the more emotional when his heart ended up saving the life of longtime Salemite Julie (Susan Seaforth-Hayes), who would have died had Gabi not agreed to the organ transplant of her deceased lover.
Victor Newman, The Young and the Restless
Okay, so everyone knows by now that Victor isn't really dead. But when the character faked his demise earlier this year to punish his son Adam (Mark Grossman), scores of viewers thought that the Mustache really was a goner -- which led to a major outcry on social media. Soap Central, however, had a feeling that Victor was once again faking (the guy has more lives than a cat, after all), leading to the publication of an article that details several times the longtime Genoa City resident led people to believe he had kicked the bucket. Check out that fun article here, and don't forget to let us know in the Comments section below what YOU think were the most shocking soap opera deaths of 2019.
Real-life Passings
2019 saw far too many of our daytime family members leaving us. Sadly, unlike the fictional characters they played, we know that they won't be coming back. However, they will continue to live on in our hearts, and they'll never be forgotten. You can read a complete list of 2019's passings here. Below, are two fictional characters that we said goodbye to in 2019 because of the death of their beloved portrayers.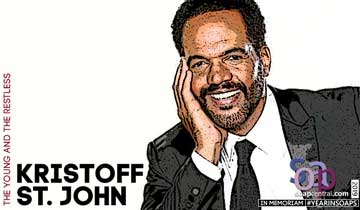 Neil Winters, The Young and the Restless
The Young and the Restless had no choice but to kill off beloved character Neil Winters when his portrayer, Kristoff St. John, was found dead in February of this year. In honor of both Neil and St. John, the CBS soap opera penned a beautiful story in which Neil suddenly passed away in his sleep, which led to a full week of tribute episodes dedicated to the actor. Several former stars of the soap opera -- including Victoria Rowell (ex-Drucilla Winters) and Shemar Moore (ex-Malcolm Winters) -- returned for emotional moments that included Neil's memorial, scenes in which Genoa City residents shared stories about the fictional PR exec, and a special in which the show's real-life actors shared their favorite memories of St. John. The emotional week-long tribute was an apt send-off for one of the most talented, respected, and loved actors in the daytime community.
Caroline Brady, Days of our Lives
Though portrayer Peggy McKay passed away in 2018, DAYS' advanced taping schedule meant that Caroline Brady died on-screen in the summer of 2019. The gap between losing the actress in real life and losing her Salem alter ego didn't lessen the pain, however. Fans mourned the long-time character via a story in which an ailing Will (Chandler Massey) died for a moment in the hospital and was visited by his great-grandmother "on the other side." It was only after he woke and told Sami (Alison Sweeney) what he'd seen that news of Caroline's death spread throughout the town. In tears, Sami realized that Caroline had sent Will home as her last gift to the family. "She gave you back to us, sweetheart," she told her son in a wave of emotion that included both relief and grief. Later, Salem residents gathered at the Brady Pub for a wake celebrating the life of the woman whose smile didn't just light up a room but lit up an entire town for decades.
What do you think about our list of the most brutal soap opera deaths of 2019? Which deaths of the year shocked you the most? Is there anyone you would have added to the list? If so, why? We want to hear from you -- and there are many ways you can share your thoughts.