It's the end of the line for long-time The Young and the Restless star Jerry Douglas (John Abbott). Well, sort of. After nearly two-and-a-half decades the soap vet will be exiting the show this week for an unspecified period of time.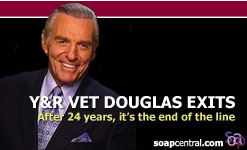 Douglas hasn't been fired. His exit is chalked up to a storyline: his on-screen persona will take the fall for the murder of Tom Fisher.
But some fans are wondering if the top-rated soap can really afford to ditch one of its longest-running cast members. And a cryptic statement from the show's newly-appointed head writer does raise some eyebrows. [Read related story: Behind-the-scenes changes at Y&R]
"Jerry has been, and continues to be, an integral part of the Y&R cast," said Lynn Latham in a statement.
And Soap Central has learned that Douglas will only be absent from the Y&R canvas for about a month. The actor is expected to return in April.
Douglas joined the cast of The Young and the Restless in March 1982. Prior to making his first appearance on daytime television, Douglas appeared in numerous feature films, including "Mommy Dearest" and "Good Guys Wear Black."
When contacted by Soap Central for comment, CBS declined to comment.
"Y&R does not comment on contracts, rumors or storyline information," a spokesperson responded.
Douglas makes his final appearance - at least for now - on March 1st.
Photo: Dan J Kroll/Soap Central



Y&R hires new writer, ditches Smith as head writer, EP.