Thelonius "Theo" Vanderway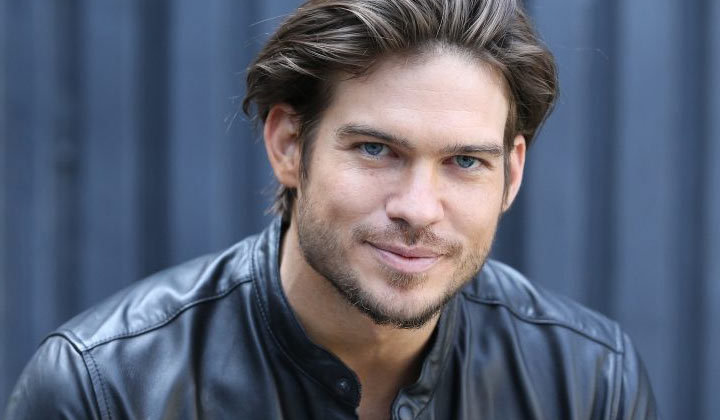 Tyler Johnson
Theo (nickname)
Birthday April 20
Owns a chain of boutiques in Paris
Briefly director of talent for Chancellor Communications (ChanceComm)
Former head of social media for Jabot Cosmetics
Former talent agent, wheeler-dealer
Former freelance marketer for The Grand Phoenix
Former freelance marketer for Power Communications
Social media influencer
Former waiter at Armand's Bistro, and other restaurants and catering companies in New York City
Attended high school and grade school in Chicago
Paris, France
Single
None known
Unknown Name Vanderway (mother) (deceased)
Eric Vanderway (father) (deceased)
Dina Abbott Mergeron (paternal grandmother)
Stuart Brooks (paternal grandfather)
Margaret Vanderway (paternal grandmother thru Eric's adoption) (deceased)
Ralph Vanderway (paternal grandmother thru Eric's adoption) (deceased)
Jack Abbott (half-uncle)
Traci Abbott (half-aunt)
Ashley Abbott (half-aunt)
Leslie Brooks (half-aunt)
Peggy Brooks (half-aunt)
Chris Brooks (half-aunt)
Keemo Abbott (cousin, Jack's son with Luan; deceased in his late 40s)
Kyle Abbott (cousin, Jack's son by Diane)
Colleen Carlton (cousin; daughter of Traci; deceased)
Abby Newman (cousin; daughter of Ashley)
Robert Carlton (cousin; son of Ashley; deceased)
Brooks Lucas Prentiss (cousin; son of Leslie)
Jennifer Elizabeth Foster (cousin; daughter of Chris)
Harrison Locke (cousin; son of Kyle and Tara Locke)
None known
History of many women
Summer Newman (lovers, 2019)
Lola Rosales (one-night stand 2020)
Zoe Hardisty underage drinking at his party; dropped at the ER with alcohol poisoning
Theo was apparently the only child of Eric Vanderway and his wife. The family lived a humble blue collar life in a small house in Chicago, and Eric was a union delegate for the teamsters. Eric died of a heart attack when Theo was 15 years old. Afterward Theo always carried his father's pocket watch engraved with is initials EV. His mother died as well.
As a young adult, Theo lived in New York City and worked as a waiter in various restaurants and catering companies. He became roommates with rich boy Kyle Abbott who was just getting over a break-up with Summer Newman. The two of them were notorious for throwing wild drunken parties, including designer drugs, and women, with unlimited funds thanks to Kyle.
Kyle returned to Genoa City and went to work at Jabot Cosmetics with his former love, Summer. The company was in trouble. Co-CEO/bothers Jack and Billy, and Jack's son Kyle made plans for the survival of Jabot, including making Jabot a complete package, clothing, shoes, and cosmetics. Summer joined them and she and Kyle were full of ideas about bloggers, social media, and giving them a box of samples, let them go online, and report. Jack offered Summer a marketing job, working with Kyle which she eagerly accepted. They contacted Theo who had become an agent for social media influencer Nazanin, and Summer schmoozed them into working with Jabot.
Kyle fell in love with Lola Rosales and Kyle planned a dream wedding for her. Rather than let Theo throw Kyle a wild bachelor party, his friend Mariah arranged a co-ed Miami-themed party for the couple on the roof of the Athletic Club. Theo threatened to bring Zoe Hardisty to Genoa City to darken Kyle's past. It turned out that Kyle and Theo had thrown a party at their place in New York at which Zoe had gotten so drunk she got alcohol poisoning. Discovering she was only 17-years-old from her ID, they had taken her to the ER and left her there. But Zoe's father confronted Kyle, threatening to press charges of endangering a minor after his under-age daughter nearly died, and Kyle had paid him $100,000 not to. Theo arrived at the party with Zoe, who said she had no hard feelings, it was not their fault but hers, she was glad they took her to the ER, and too bad her father made it all about money.
Theo hooked up with Summer Newman, who was on the rebound from Kyle, and they spent their time together getting drunk and having sex. Zoe showed up again at the opening of the Grand Phoenix Hotel. She tried to befriend Phyllis, telling her of her career website where she posted candid photos of celebrities. Zoe obviously idolized Summer, hanging on her at the party until Summer asked her to leave her alone. Zoe blatantly encouraged Phyllis to get revenge on the Abbotts and wanted to be a part of it. Phyllis told her she was way over her head, she didn't want to make enemies of the Newmans. Later everyone attending the opening started acting strange, and Theo and Summer realized that they were high, and suspected someone had spiked the sangria with "Molly" (ecstasy). Sharon and Nate had bad reactions due the medications they were already taking, but Elena knew what to do. Afterward, Phyllis got Zoe to admit she had done it by praising her ingenuity and recorded her. Zoe admitted she was seeking revenge against Theo and Kyle. Zoe was arrested for knowingly and willingly endangering others, a felony.
Theo approached billionaire, Devon Hamilton, about working for him. Devon saw right through his braggadocio, that he wanted Mariah's job as head of Power Communications. Devon decided to hire Theo to work with Mariah at LP Streaming instead. But he made one too many power moves against Mariah, so Devon fired him.
Overconfident and unemployed, Theo set up "office" at the bar at Society, and befriended Lola. He could be overheard making plays at being an agent on his phone and schmoozing with anyone he could.
Jack Abbott came to Theo and told him the tale of how Jack's mother Dina and Stuart Brooks had had a love child as teenagers who they discovered had been Theo's father Eric. After getting a DNA test confirmation, Theo asked to meet Dina. Dina came out of her Alzheimer's fugue hearing the name Vanderway, and assumed that Theo was her son Eric. Theo played along and assured her that he had been raised in a loving home which seemed to comfort Dina. [Months later they found in a note Dina had written in one of her more lucid moments stating, "Theo you are a great catch."] Jack welcomed his nephew Theo into the Abbott family, but Jack's sister Traci and Theo's nemesis Kyle were not thrilled at all that they were cousins. Kyle hinted at dark secrets in Theo's past. Jack's sister Ashley was charmed by Theo and offered him a job working for her in Paris. But Jack talked him into working at Jabot in Genoa City instead. Kyle became Co-COO with Lauren Fenmore, Summer became head of marketing, and Theo head of Social Media. Later Kyle negotiated with Jack to become Co-CEO with him instead. Theo proved successful, coming up with Jobot-jies, a Circe Brands partnering deal, and with a Korean Skin care line.
Theo and Summer broke up when she realized she was still unable to get over Kyle. And at some point Kyle suddenly decided he had really loved Summer all along, and told Lola they were over. Kyle and Summer became inseparable, at work and away. Lola began confiding her heartbreak in Theo. During a winter storm, Lola and Theo were stuck at Society with no power. They cuddled up together to keep warm, and ended up in a passionate kiss. Meanwhile Summer and Kyle were returning home, the car slid on ice, and landed out of commission. They walked to Society and joined Lola and Theo riding out the storm.
Although Jack warned Kyle and Theo to let go of their animosity, for the good of Jabot, it never happened. Jack finally gave them a challenge, a week to come up with a plan to rebrand Jabot. After discovering that Theo had hired Jabot secretary Kendra to look for dirt on Kyle, Summer and Kyle plotted to set them up to find the Jabot Back to Basics presentation that Jack had made 15 years ago. When Theo presented it to Jack as his own, Jack fired him. Kyle's presentation "Welcome to the Future of Jabot" won. Billy and Lily asked Theo to join their newly created company ChancComm with promises of a digital magazine, gaming influencers, and a 24-hour news channel. Theo later went to them with a proposal, and they hired him.
Lola and Theo began getting involved, even spending one night together, but when Theo stood her up, Lola called it off, accusing him of thinking so little of her to not even send a text.
Theo's grandmother Dina died, and he was incensed the Abbotts didn't even notify him to join them as she passed. Theo attended the memorial, playing Dina's favorite song encouraging everyone to dance and celebrate Dina. Later at the reading of the will, an old will made prior to Dina knowing of her grandson Theo, she left his father a special pen that Stuart had given her, and it passed to Theo because his father was deceased. Theo complained later that the dang thing didn't even write. When Theo discovered that Jack had individual jewelry pieces made for family members out of Dina's large emerald, excluding him, he sued for Dina's entire estate. It was settled out of court after Summer convinced Theo to accept Jack's offer of Dina's thriving boutique company in Paris. Following a touching scene with Jack wishing him well, and telling him not to screw it up, Theo quit Chancecom and left town.
Two months later, Theo showed up again supposedly on a buying trip for his boutiques and ran into Jack who congratulated him on taking his inheritance seriously. Theo disclosed to Sally Spectra that Kyle had slept with dangerous rich guy Ashland Locke's wife Tara 4 years earlier, and that both men were still unaware that her 3-year-old son Harrison had been fathered by Kyle. Sally let Kyle know the information would stay between them so long as they peacefully coexisted. Of course it did not, and before long everyone knew that Harrison was Kyle's son, including Ashland. He divorced Kara and cut her off financially. Eventually, Ashland gave Kyle custody of his son since Ashland was dying.

Post a Comment

Share on Facebook

Tweet this

Submit Feedback