Citing a "storyline dictated" reason for the departure, All My Children will ask its fans to bid farewell to Robin Mattson (Janet Dillon) and Alexis Manta (Amanda) during the May Sweeps period.
According the sources at the network, Mattson was notified last week that her role on the show would be ending.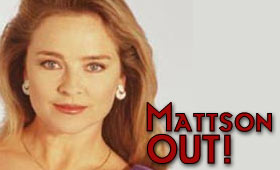 Mattson, whose earned two Emmy nominations for her work on Santa Barbara and General Hospital, has been with All My Children since 1994. The actress has won numerous Soap Opera Digest Awards, the most recent coming in 1995.
Manta, who was bumped to recurring status in late-1999, joined the cast in 1996.
Fans have feared that both roles were in jeopardy ever since James Kiberd's (Trevor) departure earlier this year.
Mattson fans have already mobilized to get the writers to reconsider their decision. A similar campaign was amazingly successful several years ago when Janet was slated to be written out of the show.