All My Children Recaps: The week of March 14, 2005 on AMC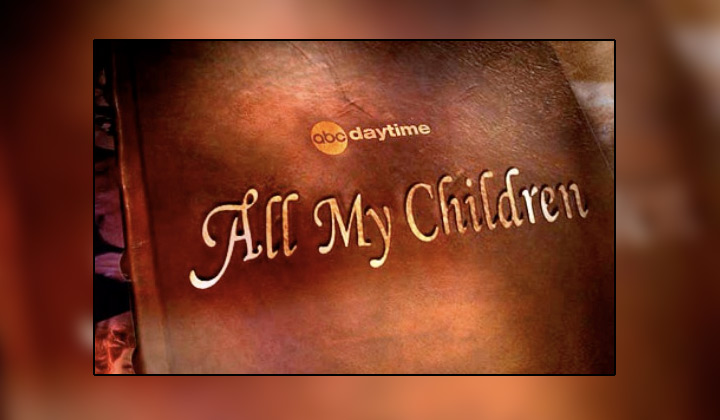 Monday, March 14, 2005
Jonathan tried to frighten Kendall until Ryan showed up. Kendall threatened to call the police. Greenlee showed up and said it was her turn to lay down the law. They all argued and Ryan said Derek ran the prints on the scrapbook and they belonged to Braden. Jonathan was relieved that everyone believed him. Kendall was still furious. Greenlee tried to stop Ryan from trapping Braden himself and to call the police. Ryan tried to reassure her and Jonathan offered himself up as the bait to trap Braden. Ryan vowed to be the one to end their nightmare. Kendall and Greenlee left. Jonathan asked Ryan to reconsider involving the police and played the family card. Ryan told him the days of protecting the Laverys are over, forever. Jonathan wasn't happy and accused Ryan of turning his back on his brothers. Ryan said they aren't innocent kids anymore and it's time to face the truth. Ryan reminded him that Braden has likely raped other women in the five years since Ryan tried to protect him by pleading guilty himself. He asked Jonathan to choose which brother to run with. They shook hands.
In the bar, Kendall and Greenlee sipped martinis and discussed Ryan and Jonathan. Greenlee told her she doesn't get sympathy because she doesn't play vulnerable very well but admitted she knows how needy and sympathetic Kendall really is. Kendall gloated that Ethan shares all of his secrets with her. Greenlee was skeptical about Ethan being in love with Kendall. Kendall explained that Ethan saw his father kill Edmund.
Ethan explained to Maria that the DVD he had belongs to Zach, as proof her marriage was over. He warned her it would break her heart, but offered to play it for her. She stopped him, saying she needs no proof that Zach is a liar. Ethan said the DVD shows Edmund in his wheelchair at the casino, questioning the staff about Zach. Maria said the man she fell in love with could never have killed Edmund. Ethan said Zach is the man he hates and is only a lie. Maria asked Ethan to destroy the DVD. Instead, he took it home and watched Edmund walking, wondering what to do and what he really saw in the stables.
Erica went to see Zach in prison and assured him he'd never get out. Zach said he needed to show her a tabloid spread about Lily being a witness to murder. Erica wondered if Zach was threatening Lily. Zach was evasive, but asked her to promise to keep Lily safe, swearing he would never hurt her. Erica was suspicious and stormed out. Zach asked one of people to get the word out that no one is to harm Lily, thinking they were doing him a favor.
Aidan went to see Lily and tried to explain to Jack that she could be in real danger because of the headlines in paper. Derek arrived to question Lily. Jack offered to let him question Lily after Braden Lavery is arrested. Derek admitted he doesn't want to put Lily on the stand and said there was an APB out for Braden. Jack wasn't satisfied and Derek warned Jack about taking the law into his own hands. After Derek left, Aidan suggested Lily have a bodyguard. Jack was curious, especially when Erica walked in and said Zach also wants Lily protected. Jack was leery but Aidan promised Lily would never realize she was under surveillance.
Sam came home from France for his father's funeral. Maddie avoided him because he was with Maria.
Tuesday, March 15, 2005
J.R. releases little Adam's nanny because she has a less than desirable singing voice. Adam tells J.R. that he can't continue to fire nanny's just because they are not like Dixie. He tells Adam that he dreamt of Dixie the other night and in the dream she sang to him. Adam speaks of how much Dixie loved J.R., and he tells Adam how much he misses her. Adam tells J.R. to take the baby to the park and find a mother for little Adam. J.R. has not interest in a woman but is still bent on revenge and swears that Babe and David will pay for what they did.
Babe plans to go visit Krystal in prison but is interrupted by someone dressed in all black and whisked away on a motorcycle. Of course, the man behind the helmet was Jamie. He takes Babe to an apartment above a garage and tells her that this is their new home. He got a job as a mechanic and repairman and tells her that this is a fresh start for them. Babe still isn't ready to get married and Jamie proposes they live together for six months and sees what happens then.
Krystal is continuously harassed by the other inmates but she fights back and tells them to back off. As she finishes scrubbing the floor, Krystal asks one of the prison guards why she is being put under the gun. The guard tells her it is mind over matter, the guard doesn't mind and Krystal doesn't matter. Babe asks Krystal how the guards are treating her and she tells Babe that she is doing good. The brave face Krystal portrayed is cut short when the guard tells her that her visitation time is up. Krystal objects saying that the twenty minutes are not up yet, but the guard lets her know that if she says anything else she will forgo all visitation for a month. Before she goes, Babe gives Krystal a little pillow that she had won at a county fair when Babe was a little girl. She tells Krystal she wants her to sleep with it. The guard tells Krystal that the pillow needs to be screened. Krystal tells the guard that it had already been screened, but the guard takes out her pocket knife and rips it open. Obviously to her breaking point, Krystal wants to know, "what the hell is going on." Suddenly, a mysterious woman appears to tell Krystal why all this is happening to her.
Lily returned to school today. Jack asked Aidan to help protect Lily from Braden.
Greenlee dreamed that she cannot move her legs, calls to Ryan, and although he is right next to her, he ignores her. She warns him that Braden is right behind him and is frightened when Ryan wakes her up. Ryan tells Greenlee to stay with Jack where she will be safe, but she refuses, saying that she feels safe at home. She wants Ryan to let the cops handle Braden but he says he has to get to Braden first and talk to him. Ryan and Jonathan set a trap for Braden at the boathouse. As Jonathan waits, Ryan hides, but unexpectedly Lily shows up and is immediately upset by seeing Jonathan. Aidan and Ryan try to calm her down as she starts counting. Reggie then showed up looking for Lily because she had already left school.. Lily's friends hassled her asking what she knew about Edmund's murder. She tells Reggie that she didn't see anyone hit the man in the wheelchair and mumbles to herself, that the man she saw wasn't in a wheelchair.
Jonathan told Aidan that he ruined everything and now Braden will not show up. Jonathan then told Ryan that Braden is capable of anything now because he knows that they tried to trap him. Greenlee enters the penthouse and as the door shuts, she lets out a scream.
Wednesday, March 16, 2005
As David scrubs the hospital floor, J.R. walks in and starts to loudly tease him about his community service duties. David warns him to leave him alone. Joe, Adam and Palmer walk into the room and Joe asks J.R. to let David get his work done. As David returns to his scrubbing, the others discuss the plans for a new Pediatric Cardiac Unit that the Chandlers are funding to build. After Joe gets paged away, the rest snicker as they tease David some more. J.R. mentions that the David ruined the hospital's reputation and that he is a criminal, not a doctor. Angry, David tells J.R. to remember that he saved lives...including Dixie's. J.R. counters by asking David who will save his life and kicks over a bucket of water before walking away. Adam smiles as he tells him that he missed a spot. He then sits down with Palmer nearby and continues to tease David across the room as they discuss their future plans for Adam, III. David walks over and warns them that they are not going to ruin his grandson. They are interrupted by the wife of a former patient of David's. She tells him that her husband has had another heart attack and wants him to tend to him. Adam and Palmer enjoy telling her that he no longer has a medical license and can't help her. David reluctantly admits that it's true and Joe escorts the woman away. Before they leave, Adam hands David a mop and tells him that he better get back to work.
Jonathan and Ryan return to Jonathan's apartment after their attempt to catch Braden was a bust. Ryan finds a note that was slipped under the door. The note accuses Jonathan of being a betrayer. He gets upset when he reads it. He starts to blame Aidan and Lily for screwing up the plan, but Ryan stops him from going further. Jonathan apologizes and says that he needs to find Braden to fix this. Ryan doesn't let him leave and tells him that there is another way. Jonathan wants to know Ryan's plan, but he won't tell him. As he leaves, he orders him to stay put, lock the door and do nothing until he hears from him. Later, Jonathan reads a note telling him to kiss their brother goodbye because Ryan is a dead man.
Greenlee is startled by Mary as she walks into Bianca's apartment. Greenlee says that she thought it was him and she was going to die. Mary wants to know who "him" is. Greenlee changes the subject and asks her why she is there. Mary replies that she is there to help her protect the valuable real estate that Bianca left to her. Greenlee doesn't believe her and accuses her of being out of money again and wanting more. Mary denies this and asks her why she can't stay there if it isn't being used. Greenlee tells her that it is going to be used by herself. This prompts Mary to ask if there are problems between her and Ryan. Greenlee tells her that they are o.k., but admits that there are some issues that they are working out. After some arguing, Mary gets Greenlee to reveal that they know that Ryan's brother is responsible for her drugging and his shooting. Mary insults Greenlee by implying that she isn't surprised...considering Ryan's blue-collar background...and tells her that it isn't too late to find a more suitable husband who won't put her in harm's way. Greenlee tells her that she has a husband and is safe because he is closing in on Braden as they speak. Greenlee has heard enough from Mary and gathers up her stuff. Ryan walks into the apartment as Greenlee is kicking Mary out. Mary starts to accuse Ryan of letting his brother poison her daughter for his own personal gain. Greenlee forces her out the door and apologizes to Ryan. Once Mary is gone, she asks Ryan what happened with Braden and he fills her in. After reading the note that Braden left Jonathan, Greenlee realizes that Ryan intends to go after Braden alone and use himself as bait to lure him out of hiding. She tells him that she is worried and doesn't want him to do it, but understands why he has to. She goes on to say that her mother's visit reminded her that she doesn't want to be like her...selfish and self-centered. She tells Ryan that she loves him for his courage and supports his decision, but makes him promise to come back to her alive. He agrees and they playfully make plans for their future, including a romantic vacation to St. Barts.
As Jamie shows the apartment to Tad, Babe comes home from her visit with Krystal and tells them that she is worried about her. She goes on to say that although Krystal assured her that she was o.k., she had a look on her face that said the opposite. She explains how the guard cut the visit short and Krystal did nothing about it. Tad tells her that he will find out what the story is and leaves to do so.
Krystal asks the inmates why they have singled her out. A dark-haired woman volunteers to tell her. She explains that the women, including the guard, are all mothers and they know why Krystal is there and are angry about it. Krystal tries to explain that she is also a mother, but the woman tells her that that makes it worse because she should have known better and now it is up to them to decide her fate. After a moment, Krystal asks them what J.R. Chandler promised them if they torture her for the next ten years. She goes on to warn them that he never keeps his promises. Later, the woman tells her that the Chandlers have nothing to do with her tormenters. She explains that the women have nothing better to do than keep up on current events. Bianca is a hero in their eyes and Krystal deserves to be reminded of what she did every single day. She goes on to warn her that it is going to be a long ten years before grabbing a broom and going into the next cell. Just then, Tad has pulled some strings and arrives to visit her. She starts to thank him for everything, but he stops her and asks what is really going on. She tries to blow his question off, but Tad won't let it go. As the dark-haired woman eavesdrops in the next cell, Krystal admits that things are not going easy for her. She tells him that it's prison and not supposed to. She goes on to say that the inmates are not warming up to scum like her and she doesn't blame them...after what she has done. Tad tells her not to say that and he wants to try to help make things easier for her. She appreciates the gesture, but is worried that he'll make things worse. She tells him that this place is her life now and she needs to get through it on her own...one day at a time...and doesn't need him feeling sorry for her. She says that she appreciates him coming to visit, but asks him not to come back. He asks her if she is pushing him away. She replies that she can't be any farther away than behind those bars and that he needs to go on with his life. She reminds him that ten years is a long time and that she'll cherish the moments that they shared, especially the night before she went to prison. He tells her that moving on is not his strong point and that was his problem when they met. She replies that it was because he had lost Dixie and she was someone worth not moving on for...not herself. He tells her that she isn't going to throw him off of the trail by mentioning Dixie and that this is about him and her. She says that she wouldn't trade what they have shared for anything and not to feel guilty. She goes on to say that life's rule is one forever love per person, if your lucky. She tells him that Dixie was his and she thanks her for helping to make him the man that he is. She says goodbye to him and leaves the room. The dark-haired woman watches him as he leaves and says his name out loud to herself when he is gone.
Jamie tries to comfort Babe, but she shrugs him off and tells him that she is leaving to buy a plane ticket out of town. She explains that if she breaks her probation, she can be sent to jail to help Krystal. Jamie talks some sense into her, reminding her that Krystal wanted things this way so that she can be free to see her son. Babe agrees and promises not to do anything crazy or stupid. They hear someone call out from downstairs. Jamie is happy that they have a customer and yells down for him to come on up. It turns out to be J.R., who has a flat tire, and he has Adam, III with him. Surprised to see them there, J.R. takes the opportunity to make fun of their new accommodations. Babe asks J.R. if she can hold the baby. He replies that it would violate the visitation rules, but at least she got a free look at him. When Jamie tells him to let her hold her son, he threatens to call the police and tell them that they are trying to kidnap the baby again. Jamie reminds him that he is in their home and that isn't going to fly. Babe starts to talk to the baby and tells him that she will see him on his birthday. When she tries to give him some of his favorite cookies, J.R. tells her that he doesn't eat that junk anymore. Jamie remembers the cookies that Dixie used to give them and asks J.R. if he thinks that she would be proud of his behavior in the recent past. J.R. teases them again about their living arrangements before answering that he does think that Dixie would be proud of him. After he leaves, J.R. restates out loud to his son that Dixie would be proud and he starts to sing "You Are My Sunshine" to him. At that same moment, the mysterious dark-haired woman in the prison is singing the same song as she sweeps the floor.
Thursday, March 17, 2005
Ethan has a dream where he confronts his father for all that he has done wrong. He asks if Zach has anything to say, but Zach declines because Ethan has said all that was needed. Egged on by Maria and Kendall, Ethan starts to administer the lethal injection when suddenly, they switch places. It's Ethan in the chair and Zach taunting him and laughing at him from the other side of the bars. He awakes with a start, and Kendall is there to soothe him and assure him that everything is okay. After he wakes up more fully, he explains that he has a fear that no matter what happens – Zach will find a way to get himself out of trouble one more time. Kendall assures him that with Zach in jail, he won't get away and will probably be put away for the rest of his life. She sees a look flicker across Ethan's face. She asks if that thought bothers him, but Ethan doesn't want to talk about it anymore. He quickly sidetracks her with compliments, and the subject is dropped.
Erica tries to engage Lily in a conversation about her wedding plans, but quickly realizes that Lily's attention is directed elsewhere. She is absorbed in the newspaper headlines talking about Edmund's murder and Zach's confession. Lily announces that she saw it wrong. Erica asks what Lily means by that but before she can get an answer, there is a knock at the door. She tells Lily that she wants to continue the conversation, and then heads over to the door. When she opens it, she sees Aidan and indicates that she needs for him to wait in the hall. Attempting to avoid getting Lily upset, Erica asks her to wait for her in another room. When Lily leaves, Erica invites Aidan in. Erica relays what Lily told her, and they are both confused. They had asked direct questions regarding what Lily did and did not see the night of the fire. Since Lily is incapable of lying, they can't imagine what she could have possibly seen wrong. They recognize that there is information within Lily's mind that they need to get to. They agree that Lily needs to be protected and kept safe – and then Aidan takes his leave.
Maria enters the living room at Wildwind and finds Sam looking at the headlines about his father's murder. She tries to be comforting and asks if he wants to say his goodbyes privately before the services start. She is met with a cold shoulder, and wants to know why. Sam wants her to leave him alone, but it becomes clear that the subject will not be dropped without explanation. He points out that the ramps are already gone, and Maria tells him that she isn't trying to erase Edmund from their lives. Sam calls her a liar, and at that point, she realizes that he'd been talking to his sister. Sam admits to that, and is completely incensed at all that had gone on. He tells her that she cheated, and her lover then turned around and killed Edmund. Maria tries to interject that in her agitated state, Maddie doesn't know all of the facts. Sam refuses to believe her, and tells her that she has to live with being a liar. He walks out, and moments later, her mother walks in. Isabella says that Sam is right about everything. She rants on about how Maria betrayed her husband in thought and in deed. Just then, Anita arrives on the scene and attempts to diffuse the situation. She reminds her mother that Maria is in pain. Unmoved, Isabella notes aloud that Maria invited that pain into her house. Exasperated, Anita asks her mother to go check on Maddie so that she could be alone with her sister. When the sisters are finally alone, Anita apologizes – but Maria isn't so sure that she deserves it. Maria admits that while she did choose Edmund, she chose him too late. In the interim, she lead Zach to believe that they could be something more – and her punishment is that she has to bury Edmund today. Anita comforts her, but is interrupted by an incoming call. Maria answers it, and it's Mateo. They talk briefly, and then Maria wraps up the phone call. He, Hayley and Enzo can't make it to the services because Enzo has the chicken pox, but he wanted to call and let her know that he was there in spirit. She observes that everyone who doesn't hate her is halfway around the world. Anita acknowledges how the kids are feeling now, but knows that it will end – and when it does, Maria will be there to tell them that she loves them. Maria jokes that since Anita made it sound so easy, that perhaps it would be better if she handled dealing with the children. Would that she could, but they both know where the responsibility lay. Maria then decides to head off to find Sam.
Ryan is awake and watching Greenlee sleep when the alarm clock goes off. She stirs and insists that he could have thought of a better way of waking her up. Ryan is distracted because he is waiting for something specific. The song on the radio ends, and the announcer says that it was played as a dedication from Ryan to Braden. Greenlee is confused as to how Ryan thinks that Braden will hear the dedication – but Ryan explains that he sent it out to all country music radio stations in the area (which is the music Braden likes) and that it is slated to play all day. Frustrated, Greenlee says that she feels they don't get to spend enough quality time together anymore. Ryan promises that as soon as he deals with his brothers, they will be able to rectify that. He then confesses that he won't be able to attend Edmund's funeral. He understands why his wife is upset, but explains that Braden won't take a day off if he wants them dead. Greenlee acquiesces, and then says that one of the things she misses the most is daily surprises. She leans over the bed and pulls out a big box. She hands it over to Ryan, and he is happy at what he sees inside.
A short time later, Erica and Lily are at the counter in the kitchen. Just as Erica starts to ask questions again, there's another knock at the door. This time it's Greenlee, and all she wants is her father. After Erica tells her that Jack is down at the courthouse with no end in sight, she offers to help her with whatever problem Greenlee has. Not thinking that Erica would have any words of comfort for her, Greenlee is reluctant. Still, she admits that Ryan went out to find Braden on his own. Erica flips out at her "senseless behaviour" and they trade barbs about who has done more wrong to Ryan. The bickering gets to Lily and she leaves the room. Erica continues to rail at Greenlee when there is yet another knock at the door. Erica opens it and finds her oldest daughter. She barely says hello before jumping back into the fray. Kendall listens for a second, and then breaks in to try to make her mother see reason. She informs Erica that Ryan does exactly what he wants or needs to do, and in this case – that means going after Braden. Additionally, Greenlee will do whatever she pleases. In this case, it meant being supportive of her husband. Erica is unmoved by her daughter's words, and chooses to believe that both of them have lost their minds. Greenlee decides that it's time to leave, and asks Erica to have Jack call her. Eager for her to go, Erica bids her adieu – but Kendall isn't having it. She refuses to let her old friend leave in this condition. She drags Greenlee over to the couch for a chat. They start talking about Erica as if she isn't there and this doesn't sit well with their subject. Erica announces that she is going to check on Lily and leaves the room. With her gone, Kendall resumes reassuring Greenlee by saying that Ryan can outsmart both of his brothers on any day – and that he will take care of everything and come back to her. Greenlee is still uneasy but before they can expound on it any further, Erica rushes back into the living room and tells them that Lily is gone.
Shortly thereafter, Ryan returns to the room he shares with Jonathan. He realizes quickly that Jonathan is on the phone with their remaining brother. He waits to see what the next move is, and is shocked when Jonathan hands the phone over to him. He talks briefly with his brother, and then asks if they can meet by the boathouse in an hour. After the phone call concludes, Jonathan tries to convince Ryan not to go after Braden alone. He shows off a note that showed up the night before – which stated that Ryan was dead. He tries to offer himself as backup, but Ryan isn't having any of it. Jonathan apologizes for not being more forthright with information, but it's water under the bridge. Jonathan says that he was just trying to protect his brothers as they had done for him so long ago. Ryan appreciates the sentiment and says that when things were done with Braden, they would start their relationship anew. Jonathan tells him to be safe, and watches as he walks out of the room.
Ethan arrives at the jail, and without looking up, Zach knows that his son is there. Ethan admits that he trespassed at Wildwind and found the disc of Edmund walking, and realized that Edmund was indeed the liar. He is gleeful as he reports that he destroyed the disc and that Maria can bury her husband a hero. All Zach has left, according to Ethan, is his word against that of a dead man. Ethan's quite smug at possessing the coveted upper hand, but he doesn't get the reaction that he wants. Zach simply states that he will rot in jail and burn in hell for what he's done, and Ethan hopes that it will be painful. Zach is curious as to how Ethan came to be such an empty shell of a man – was Zach's mention of the Cambias curse more of a lure than a deterrent? He then admits that Ethan is starting to act more like Alexander Sr. every day. Ethan tells his father that he will pay for what he did. Zach inquires as to whether he means what was done to Edmund, or what was done to Ethan himself. Zach asks if Ethan played out this scene of confrontation in his head – knowing that he had, and further knowing that it isn't going the way he had hoped. While Ethan seethes, Zach announces that if Ethan is having too much fun, he can tone down his reactions. Non-verbally admitting that he wants more of a reaction, Ethan says that Zach should say whatever he needs to say now because he will have plenty of time to think over what he'd done once he was in prison. Zach fires back that Ethan will have an equal amount of time to think about his own wrong doings. Wanting to get in the final shot, Ethan reminds Zach that the woman he did everything for hates him as much as his own son does.
Lily shows up at the burned out barn at Wildwind. She keeps flashing back to the scene where Edmund gets up from the wheelchair to set the space heater upright, and then gets hit over the head with the shovel. She's only afforded a few minutes to do that because Sam shows up and interrupts her reverie. He tries to introduce himself and he holds out his hand for a handshake while explaining that Edmund was his father. He goes on to say that the services being held that day were for his father, and that the barn couldn't be torn down because it is still considered a crime scene. Lily processes all of this, and then flashes back to what happened one more time. Cryptically, she says aloud that what she originally thought she saw was the truth. Sam starts firing questions at Lily and she reveals that she saw the man in the wheelchair stand on his own two feet. Clearly, this agitates Sam and he tells her that she can't say things like that about his father because he's dead. He demands to know who she is and starts to approach her, but she freaks out and yells for him not to touch her. Just as she gets highly agitated and starts counting backwards to calm herself, Maria arrives on the scene. She pulls her son away and explains who Lily is, what is going on and why she is so upset. Sam, still upset, continually tries to tell his mother what Lily said but she can't focus on that right now. She asks him to go up to the house and call Jack, but Sam hesitates. His only other option, however, would be to stay with Lily and calm her down while Maria made the call. Opting for the lesser of two evils at the moment, Sam heads back to the main house.
Erica is on the phone with Jack, telling him that Lily is gone and assuring him that his daughter will be kept safe and that they would find her. The phone call ends abruptly, and Erica is immediately on the attack again. She blames Greenlee for Lily's leaving – because Greenlee came into the apartment shouting her demands. Irritated that Erica can't seem to let it go, Greenlee reminds her that she isn't personally responsible for installing the back door or pushing Lily through it. She says that she is sorry that Lily left, and this only proves to be the latest of openings that Erica takes as a means to brow beat her. Erica then tells her that the other person who is out and about is her crazy brother-in-law Braden...who got there because of her other crazy brother-in-law Jonathan. She continues to screech on about how they have hurt more than enough of the people that Jack loves, and this affords Kendall and opportunity to break in. She reminds Erica that Greenlee is one of those people, and that she would do well to remember that. Greenlee follows and says that right now, Braden is probably going after Ryan – far away from wherever Lily is.
When Sam leaves Maria slowly approaches Lily and tells her that they are going to get in touch with her dad, and this helps ease Lily's anxiety. She asks if Lily wants to come up to the house to wait for her ride, but Lily is focused once again on her repeated flashbacks of the crime. Just then, she remembers seeing Zach still unconscious in another room of the barn. She then announces that she didn't get it wrong – and that 'he' didn't do it.
Ryan checks out the area around the boathouse when suddenly someone drops down from the ceiling and surprises him. It's Aidan, who clearly sees that he has caught Ryan off-guard. He warns Ryan about walking into open fire, as he is wont to do, and then informs him that he has already swept the area and found nothing. Just then, to Ryan's horror, Aidan whips out a gun. Ryan insists that there is to be no gunfire, and that he will handle things as he sees fit. Aidan feels more secure in the backup position having a gun in case they should need it. He tells Ryan that if Braden should decide to burst in on them with guns blazing, they need to be prepared. Ryan still wants to deal with the situation in his own way – just one brother, who would have done anything for his siblings, trying to bring another brother down. He tells Aidan that Jonathan would be there right now to help if he could, but Ryan wouldn't allow it. Aidan expresses the possibility that if Jonathan were here, he might have just as easily helped Braden. Ryan is unwilling to entertain the idea that both of his brothers could want him dead, but Aidan says that one of the reasons Ryan keeps him around is because he is able to look at things objectively when Ryan can't – and that it's a valid viewpoint. Upset, Ryan says that he doesn't need Aidan's help any longer, and asks him to leave. Alone again, he paces the length of the boathouse, muttering about his disappointment in his brother once again. He goes to the door to see if he can spot Braden. A shot rings out and it hits Ryan, knocking him to the ground.
Back at Jack's apartment, Erica receives the good word from Sam via phone and promises to head over to the estate to pick Lily up immediately. Kendall and Greenlee are confused, but Erica doesn't stop to explain what happens before dashing out the door. With her gone, Greenlee continues to brood about Ryan walking into an open fire. Kendall tries to be helpful once again and says that perhaps Lily being found is a good sign – meaning that Ryan will be successful in taking care of his brothers, and will come home to his wife safe and sound. Seeing that her positive words aren't having any effect, Kendall decided to stay true to form and make the situation about her. Greenlee isn't surprised in the least when Kendall announces that she will now try to one up Greenlee in the emotional tizzy department. She tells Greenlee that Ryan will be fine dealing with his brothers and that when he's done, that's when the real problems start. Curious, Greenlee waits for an explanation. Kendall tells her that when all is said and done, the two of them will want to put a serious hurt on Jonathan and Braden. Greenlee doesn't see a problem with this, but Kendall confesses that she vowed to never wear an orange jumpsuit again. Her proposed solution is that they help hold each other back so that they can stay out of trouble. Greenlee tries to play along, but her half-hearted attempt is short lived.
Friday, March 18, 2005
Brooke and Tad enter the church for Edmund's funeral. Brooke tells Tad that Maria asked her to speak at the funeral, but that she is still not sure if she should tell Maria the truth about Edmund's plans to destroy her. Ethan comes in the chapel, walks over to Edmund's casket and tells him that he destroyed the disk. JR shows up and go over to talk to Ethan. He tells him that he envies Ethan because he got a chance to put his enemy in jail. Ethan says that he wished he could have done it without Edmund having to die. JR seems heartless about the circumstances and tells Ethan to soak up the good feelings of revenge as long as he can. JR says that he wishes he could get the revenge on Tad, David, Babe and Jamie the way Ethan has on his father.
Anita goes to visit Zach and tells him that she hates him for killing her sister. Zach says that Maria's grief is not his fault. Anita hands him Edmund's obituary and at the bottom, she reads out the names of Edmund's children and wife. She asks him if he ever thinks about what he did to the children whose father he stole from them. Zach says that they have Maria, so they are not totally parentless. Anita informs him that Maddie and Sam think she is a murderer and won't speak to her. They are suffering and broken because of him, she says. Zach says that he has lost something too-his freedom. Anita tells him that she hopes the pain he has inflicted on her family keeps him warm at night and rushes off to the funeral.
Maria asks Lily what she saw wrong. Lily is quiet and Maria asks her if she saw Edmund's murder and if Zach really did kill him. Before Lily can answer her, Erica comes over and tells Maria to leave her alone. She tells her that she can not manipulate Lily to clear Zach's name or her conscious. Before Maria can respond, Jackson and Reggie arrive and they escort her back inside Wildwind. Maria tells Erica that Lily came to the barn because she was upset by the article in the newspaper and might have seen the murder. Erica tells her that Lily told her and Aidan that she not witness anything. Maria tells Erica to go home and Erica says that she can say her good-byes to Edmund privately before Maria storms off. Opal comes over and Erica tells her if anything happens to Lily, it is her fault because she leaked the news to the paper. Opal admits that she told a client about Lily witnessing the murder, but had no idea she was a reporter. Erica says that Opal has put Lily in more danger, but Opal does not understand, citing Zach is in jail. When Erica tells her that she carelessly thought about Lily, Opal rebuffs, saying that she has stood by Erica's side the many time she broke the law. Erica warns her to stay away from her family from now on.
Back at Wildwind, Lily tells Jackson and Reggie that she did not get lost. Reggie says that they are used to her sticking to a schedule and when she did something not on her schedule, it got them worried. Lily apologizes and says that she will stick to her schedule from now on. Sam comes in and tells Jackson that he was very rude to Lily. Sam goes over to Lily and apologizes for his behavior. Lily tells him that sometime she is rude too when there are other things to worry about. Erica comes in and spends time with Lily alone. She asks her if she saw Edmund die and Lily nod her head yes. Erica asks her if Zach is the one who killed him. Lily is silent and walks past Erica, looking at the floor.
Maria goes home and asks Sam and Maddie to come to the funeral. They are silent, but Maria pushes forward, saying that she will fight for them and love them, no matter how angry they are at her. The children walk off without telling her if they will attend the funeral. Tad comes over to see Maria. He tells her that she is going through a hard time, but needs to hold onto the memories of Edmund to keep him alive in her heart. He says that her friends, especially him, will need her twice as much since Edmund is gone. Sam and Maddie tell Maria they are going to the funeral. Sam asks if he can speak at it and Maria agrees.
Greenlee tells Kendall that she is not sure if Ryan is going to get past Braden alive.
Kendall tells her that she has nothing to worry about and if she wanted to, she could not have stopped Ryan. Greenlee tells her that being married makes her realize she has to take care of someone other than herself. She says that today is Edmund's funeral and she is worried that Ryan's will be next. Greenlee says that when she was drugged, she saw Ryan dying and her worst nightmares come alive. Kendall says that God has given her enough heartache and has moved on to someone else. Greenlee disagrees and says that God continues to put more grief on her. She says that when Leo died, she wanted to die with him and often thought about throwing herself over the waterfalls. She says that Ryan saved her from that and asks if Kendall would have stopped him. Kendall admits that yes, she probably would have not let him go after Braden, but that is one reason she didn't win Ryan's heart. Greenlee lets Ryan do his own thing without being a control freak, something she never grasped, Kendall says.
After the shots are fired, Ryan is thrown back into the cabin and falls to the ground. Aidan rushes over to check on him and after a few moments Ryan wakes up moaning. Ryan tells Aidan that he is fine, thanks to a bulletproof vest Greenlee got him and gave him that morning. Aidan checks out the cabin and tells Ryan that there is no sign of Braden. Ryan and Aidan go to Jonathan's room and find him on the floor, bleeding and screaming. Aidan finds a bloody knife on the floor and puts it in a plastic bag for evidence. Ryan asks Jonathan what happened. Jonathan says that he tried to stop Braden so Ryan would be alive, but Braden stabbed him. Ryan applies pressure to Jonathan's wound and tells him that Braden did not get to him. Jonathan is rushed to the hospital and Ryan calls Greenlee. He does not tell her about Jonathan, but says that is fine, but won't be able to attend the funeral. Greenlee is thrilled he is alive and Kendall gives her a hug. They leave and go to the funeral, while Ryan is being told that Jonathan's wound can be treated. When Ryan goes into to see him, Jonathan says that there is a bomb.
Erica goes to visit Zach and tells him that she knows he did not kill Edmund.
The funeral begins with Olivia singing at song. Tad is the first one to speak, reciting all of Edmund's journalistic insights and wonderful characteristics. He says, "He could always be counted on and make sense of how things happen. As they say the rest is silence and that's the truth because we all lost something incredibly precious to us."