Two-time Daytime Emmy winner Kevin Mambo (ex-Marcus Williams, Guiding Light) is said to be up for the part of All My Children's Frank.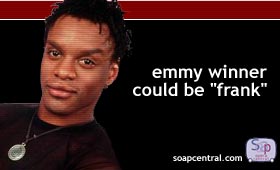 An AMC spokesperson remains tight-lipped about the identity of Frank. However, many Internet chatters jumped when they learned that AMC was bringing on a 20something African American male character by the name of Frank.
As reported last month on Soap Central, there is mounting speculation that Frank might be Frankie Hubbard, the son of former AMC super couple Angie and Jesse Hubbard.
Frankie was last seen not on AMC but on The City, where he was played by Alimi Ballard. Emmy winner Darnell Williams (Jesse Hubbard), who played Frank Hubbard's dad, was last seen late last year as an angel-slash-ghost trying to help Tad Martin piece his life back together. Of note to fans of the actor is the fact that Williams played a Jesse look-alike named Jacob Foster on The City. There's no word if AMC would revive that character. Frankie's on-screen mom, Debbi Morgan (ex-Angie Hubbard) has appeared in numerous feature films since her exit from AMC, including The Hurricane and Eve's Bayou.
Mambo, an Emmy winner himself, picked up back-to-back Outstanding Younger Actor Emmys in 1995 and 1996. He was also nominated in 1997.