The Bold and the Beautiful has opted to recast the role of Thomas Forrester. The surprise casting move means that Emmy-winner Drew Tyler Bell, the first actor to play Thomas as a contract role, is out after more than six years with the CBS soap.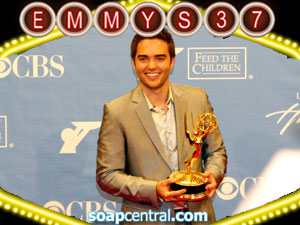 Earlier this year, Bell picked up his very first Daytime Emmy nomination -- and win -- in the Outstanding Younger Actor category.
Backstage, Bell, who is of no relation to B&B's head writer and executive producer, Bradley Bell, discussed his on- and off-contract status with The Bold and the Beautiful.
"I've been back and forth [...] more times than [a ball at] Wimbledon," Bell mused. "The contract doesn't really mean anything, I think, to our show. It's just about storyline. I won this Emmy for material from when I wasn't on contract. I love the show and if I'm on contract, great. If I'm not on contract, great. As long as they're working me, I'm happy."
With Bell out, daytime newcomer Adam Gregory will assume the role of Thomas in September.
Though the B&B role will be Gregory's first daytime soap gig, the actor is no stranger to soapy drama -- he appeared as Ty Collins on the primetime series, 90210. Gregory also has two feature films under his belt. He appeared as Dom in the film 17 Again, and as now-ironically named Drew in the Miley Cyrus flick, Hannah Montana: The Movie.
With a new face to Thomas, TVGuide Magazine's Michael Logan reports that "Thomas take sides with Brooke Logan in the ongoing battle between the Logans and Forresters. Also, look for Thomas to take an interest in Brooke's daughter, Hope."
Bell will last air on The Bold and the Beautiful on August 27. The character will be off-screen for about a month before Gregory takes over on September 22.