Vincent Walker
Deceased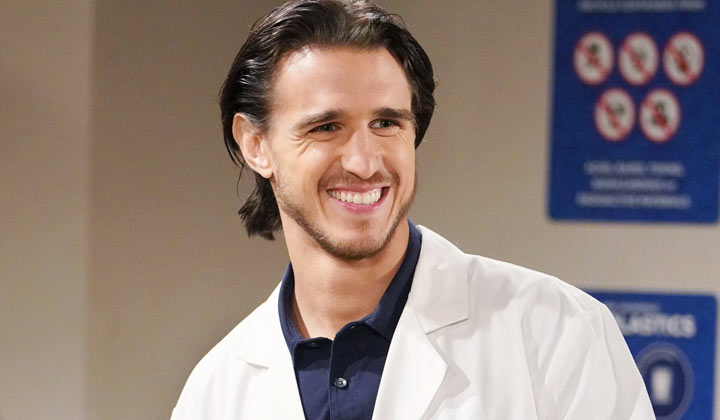 Joe LoCicero
Vinny
Lab technician
Drug dealer
An apartment in Los Angeles, CA
Single
None known
unknown man (father)
unknown woman (mother)
None known
unnamed woman (girlfriend)
Sold illegal drugs to Thomas Forrester [2019]
Passed illegal drugs along to Steffy Forrester [2020]
Changed the results of Steffy Forrester's paternity test [2021]
Possibly abused as a child by his father [circa 1990s]
Punched by John "Finn" Finnegan [2021]
Hit by a car driven by Liam Spencer [2021]
Vincent Walker was the apparent childhood friend of Thomas Forrester, heir to Los Angeles fashion dynasty Forrester Creations, although Vincent was not mentioned or seen until 2019. "Vinny," as he was more commonly known, was first seen selling little white pills to Thomas, and Vinny later slipped Thomas more drugs as a wedding present when Thomas married his long-time crush, Hope Logan.
Vinny let Thomas stay with him when it was revealed Thomas had helped keep the secret that Hope's child, Beth, had died in childbirth, when Beth had really been switched with a deceased baby and adopted illegally. Vinny commented on the never-before-seen intensity in Thomas and was appalled when Thomas called his young son, Douglas, a brat for exposing Thomas' secret; Vinny confessed his own father had called him names and been absent for much of his childhood.
Vinny learned from his bartender friend that Thomas' father, Ridge Forrester, had gotten drunk and spent the night in the apartment above the bar with a woman other than his wife, Brooke Logan. Knowing that Thomas was harboring a grudge against Brooke, Vinny reported the news to Thomas, who promptly used it to come between Brooke and Ridge.
Later, Vinny primarily stayed with his off-screen girlfriend and let Zoe Buckingham, who had also been disgraced keeping the secret of baby Beth, crash at his apartment. Vinny could see that Thomas was trying to redeem himself for his misdeeds concerning Hope, but when Thomas started spending time with Zoe, Vinny couldn't help but wonder if Thomas was playing Zoe to get to Hope, and got confirmation from Thomas. Vinny couldn't decide if Thomas' plan to bag Hope by making Zoe his fiancée was "genius or psycho," but Vinny was vehemently against Thomas continuing to use little Douglas in his scheme. At Thomas' wedding to Zoe, Hope and Zoe turned the tables on Thomas and tricked him into admitted he really wanted to marry Hope; when Thomas tried to get Douglas to help him backpedal, Vinny publicly lashed Thomas for putting Douglas on the spot and watched as Thomas left the wedding in tears.
Off-screen, it was mentioned that Vinny had a thing for Thomas' sister, Steffy Forrester. After Steffy was injured in a motorcycle accident and became dependent on prescription pills she could no longer get, Vinny sent Steffy a teddy bear with a stash of illegally obtained meds in the box. Then, with Thomas recovering from surgery to relieve bleeding in his brain, Vinny visited Thomas and offered him his own pills.
Vinny began working as a laboratory technician, but resented the rigidity of the nine-to-five job, as well as Dr. John "Finn" Finnegan, who worked alongside him at the hospital; Vinny felt "Dr. Hunky" looked down his nose at him. Vinny found out that Steffy didn't know if she was pregnant by her boyfriend Finn or her ex-husband, Liam Spencer, who was now Hope's husband. Vinny knew Thomas wouldn't mind if Liam was the father, as it would free Hope up for Thomas, and told Thomas so, despite Thomas' new resolve not to interfere in Hope's life. But after Steffy had a paternity test naming Liam as the father, Vinny went into enough detail about it that he had to curb Thomas' suspicions that Vinny had tampered with the test.
Vinny blew Thomas off when Thomas came to the hospital demanding proof that Vinny hadn't changed the test results but found himself cornered by Finn, who had overheard Vinny and his best friend arguing and wanted to order a new test. Vinny made it look like he was about to confess, then punched Thomas, not counting on Finn punching Vinny so he couldn't get away. Vinny finally admitted he had altered the paternity test for Thomas before making a run for it. However, Vinny was soon arrested for the crime.
While out on bail, Vinny was hit by a car driven by Liam and died on the side of the road. Vinny was last seen in corporeal form on a slab at the morgue; later, Liam experienced a vision of Vinny in which Vinny taunted Liam over the fact that Liam's father, Bill Spencer, Jr., had gotten rid of Vinny's cell phone and wallet and coerced Liam into keeping the circumstances of Vinny's death quiet. Weeks later, Vinny showed up in a delayed text message to Thomas in which he threw himself in front of Liam's car to frame Liam and assure Hope could be with Thomas -- evidence which got Liam and Bill released from jail for their part in the hit-and-run.

Post a Comment

Share on Facebook

Tweet this

Submit Feedback