Forget what you heard about contract extensions or recasts. As previously reported, Farah Fath (Mimi Lockhart) and Judi Evans (Bonnie Lockhart) will be exiting Days of our Lives. While their exits have loomed large for some time -- in some cases for several months -- their official exits are now here. Both will make their final on-screen appearances next month.
Would you like to see DAYS bring back Mimi and Bonnie in the future?

The Lockharts ran their course. I don't think they need to come back.
51%
I'd love to see Mimi return -- even if it means the role has to be recast.
47%
Yes. I can definitely see future story for both of these characters.
2%
Bonnie was fun to watch and I'd welcome a chance for her to return.
0%
I have no opinion about a possible return of Mimi and/or Bonnie.
0%
Other
0%
Poll Posted: February 11, 2007
"So many people are responsible for my tremendous 8 year run on Days of our Lives," Fath said in a statement. "It's the cast and crew who have been my family for all these years...and I love and respect everyone who works there so much. Growing up on my favorite TV show has been absolutely WILD. The opportunity I have had these last 8 years is beyond anything I could've imagined."
It may seem hard to believe it, but Fath's journey into the DAYS sunset began in July 2006 with a statement on herofficial web site. The announcement led to rampant Internet rumors that the actress had been fired and Fath was put in the unenviable position of having to go on the offensive against the rumors.
"Goodness gracious. I really didn't want to have to 'set the record straight' about any of this, but I'm getting annoyed that people think I was fired," Fath asserted. "I won't divulge specific reasons why, but I asked to be let out of my contract a year early."
As the countdown to Fath's exit continued to tick away, a Days of our Lives spokesperson hinted that if Fath did not agree to stick around the show would then recast the role. That is no longer the case and a show rep says that there are "no plans to recast Mimi."
Evans, meanwhile, learned of her impending exit in December 2006. The actress admitted knowing that she would probably be cut as the show looked to trim its budget.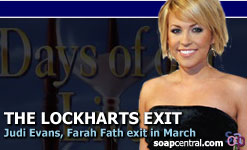 "It's what's best for the show," Evans admitted in an interview with TVGuide. "At this point, they need to scale down and focus on [core characters]. Bonnie is very entertaining, but, while the audience is entertained by her, I don't think they tune in to see her."
Fath joined the cast of Days of our Lives in 1999. Evans appeared previously on DAYS as Adrienne Johnson Kiriakis from 1987 to 1993, but her stint as Bonnie began in September 2003.
Both of the Lockhart women will last air on March 1st.