Apparently being a sexy underwear model-slash-actor is not all it's cracked up to be. Antonio Sabato, Jr. (Jagger Cates) will star in a cable reality series that will hopefully help him find the love of his life. With the new series, Sabato will join the likes of rocker Brett Michaels and Public Enemy star Flavor Flav, both of whom have had their own find-me-love reality series.
"At the age of 36, I'm finally ready to settle down," Sabato told Variety.
According to Variety, the show will be shot using a soap opera theme and feature narration by Sabato as he and contestants participate in various challenges such as replicating steamy love scenes or skydiving in a gown. The show, which will air on VH1, has yet to be formally titled.
VH1 vice president Jeff Olde refers to Sabato as a "fantasy man" for many of the network's viewers -- both women and men -- and will offer a non-musical spin on the oft-tweaked dating format.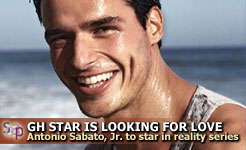 Sabato has been wed once, a one-year marriage to Alicia Tully Jensen. The pair divorced in 1993. Since that time, Sabato has twice been involved in long-term relationships. He and actress Virginia Madsen have a 14-year-old son, Jack. Sabato has a daughter, six-year-old Mina Bree, with longtime girlfriend Kristin Rosetti.
Earlier this year, Sabato returned to his former General Hospital role on the SOAPnet primetime spinoff, General Hospital: Night Shift. It had been 13 years since the actor last stepped into Jagger's shoes.
The show is expected to start filming by year's end. A debut for the show has not yet been announced.