Though her appearance on General Hospital lasted just a week, America Olivo (ex-Marianna) has suddenly found a lot more exposure for herself in the mainstream media. The actress-turned-model-turned-singer will appear in a pictorial in June's edition of Playboy and the on July 4, she'll release her first album.
The Los Angeles-born Olivia made her daytime debut as Marianna in January 2008. The actress appeared in about four episodes before the role was recast. The change-up didn't seem to sour Olivo's will to succeed; she's since gone on to work in four feature films. Her appearance as Amanda in the update of the Friday the 13th horror flick helped the movie rake in $65-millon. In what may be her most-anticipated release, the film Bitch Slap, due out later this year, reportedly features the longest girl-on-girl action sequence in motion picture history.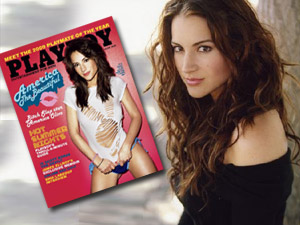 Olivo has also just been signed to the independent label, Dauman Music, and she'll be putting out her first full-length solo album later this year. The first single, "Déjà Vu," is already heating up dance floors across the country and making its way up Billboard's dance charts.
"It's a young, hip East Coast sounding dance record, a light and refreshing summer song with an infectious, hypnotic chorus," says Dauman CEO Jason Dauman of the lead single.
Olivo isn't just a pop or dance singer. The 31-year-old earned her degree as a mezzo-soprano at the famed Juilliard School.
With the June edition of Playboy, now on newsstands, Olivo becomes the latest daytime star to shed their clothing. Earlier this year, Days of our Lives alum, Lisa Rinna (ex-Billie Reed), returned to the pages of Playboy for her second pictorial and former Miss USA and Passions star, Kelli McCarty went one step further by appearing in an adult entertainment movie.
This marks Olivo's first time posing for Playboy.
Photo Credit: Playboy