The stork has been very busy making trips to Port Charles! Greg Vaughan (ex-Lucky Spencer) and his wife, Touriya, are the proud parents of a baby boy. The little one, named Cavan Thomas Vaughan, is the couple's second child. The baby's gender isn't the only thing that has Vaughan experiencing a bit of déjà vu.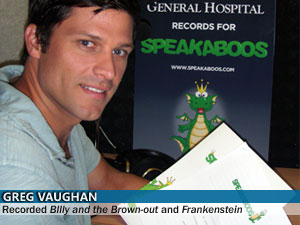 "Exact weight/size of his Big Brother!! 7lbs 15oz - 20 in long," remarked on his Twitter page.
The Vaughans' other son, Jathan James, was born May 4, 2007.
Last fall, Vaughan had the chance to hone some of his parenting skills by lending his vocal talent to a series of children's books. Vaughan, along with several of his General Hospital castmates, recorded fairytales for Speakboos. For his selections, Vaughan read Billy and the Brown-Out and Frankenstein.
Vaughan was a member of the General Hospital cast for nearly seven years. In October 2009, the actor was let go when Jonathan Jackson returned to reprise the role of Lucky.