In a recent Instagram post, General Hospital star Marcus Coloma (Nikolas Cassadine) warned fans not to respond to a separate account claiming to be him. Coloma is the latest daytime star to have to acknowledge the presence of online imposters and scammers on social media.
In a post late Thursday night that was still visible Friday via the actor's Instagram "stories" tab, Coloma highlighted a fake account that claimed to be the actor's "back up account." Soap Central captured a screen shot of Coloma's warning to fans, which you can view in the image at the top of this article.
In the post, Coloma noted in all capital letters that the account posing as him was "FAKE" and that he had blocked the account. "Look for the blue check mark!" Coloma exclaimed in the post, which also contained a warning to fans that his only Instagram page is @marcuscoloma on the platform.
Sadly, Coloma isn't the first daytime star to be the victim of online scammers. In September, Days of our Lives star Peter Reckell (Bo Brady) issued a warning to fans that someone or a group of someones had been impersonating him on social media, asking fans for money for a purported "fan club."
At least two other DAYS stars, Thaao Penghlis (Andre/Tony DiMera) and Galen Gering (Rafe Hernandez), have seen scammers trying to profit off their celebrity this year alone. Earlier this summer, an Instagram account claiming to be Gering's "backup" account sent private messages to fans to ask for money for a purported tour of the actor's dressing room and various sets on DAYS.
Around the same time, Coloma's GH co-star Cynthia Watros (Nina Reeves) took to Twitter to clarify that she had not reached out to fans via direct message on the platform.
As a friendly reminder, no soap star, nor any other celebrity, will ever have a "backup account" that they will use to seek out fans and message them privately to ask for money or other items like gift cards. If you're unsure if an account is legitimate, you can do a Google search with the actor's name and the social media platform as the search terms.
If the actor has an official account, it will be listed and oftentimes marked with a blue check mark. You can always message Soap Central, and we can check it out for you. You can find Soap Central on Facebook (facebook.com/soapcentral), Instagram (@thesoapcentral), and Twitter (@soapcentral).
Here is another look at Marcus' message to fans.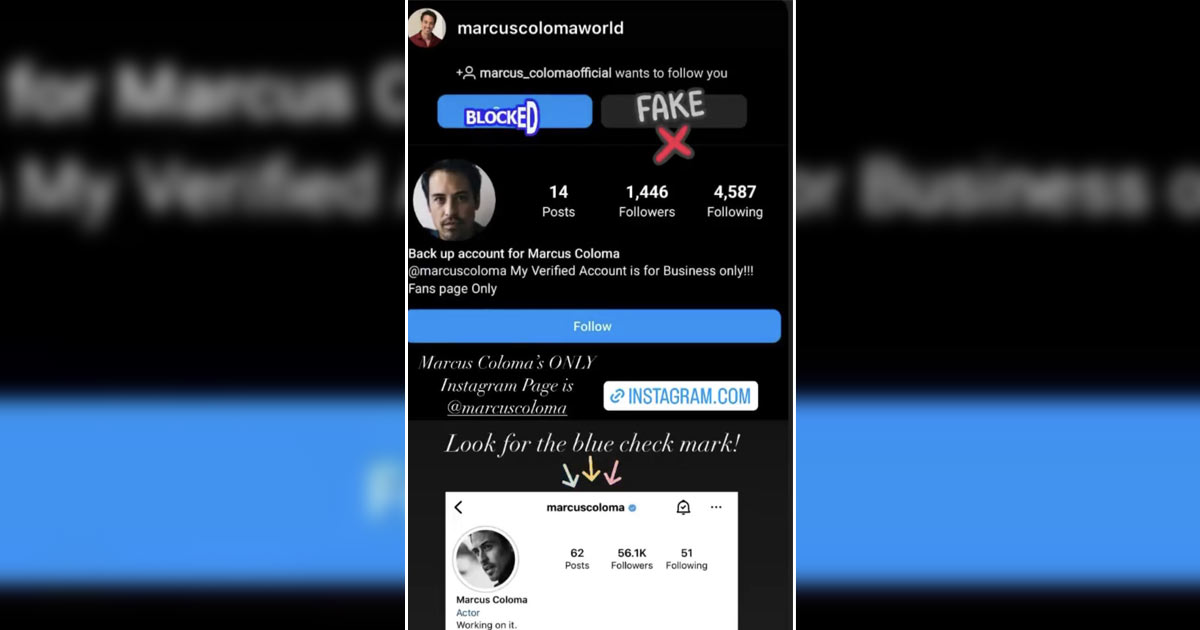 How do you feel about predatory social media scammers? Have you had experiences with them, too? We want to hear from you -- and there are many ways you can share your thoughts.