As reported last month by Soap Central, Anna Lee (Lila Quartermaine) has been let go from General Hospital. Lee has played Lila, the matriarch of the venerable Quartermaine family, for the past 25 years. Lee's contract with General Hospital expires this month.
Lee's son, soap veteran Jeffrey Byron (ex-Dr. Boardman, Port Charles) first learned in August that General Hospital execs planned to take his mother off the payroll as part of a cost-cutting measure. Byron was fearful that the news of her firing would kill the 90-year-old Lee.
"I can tell you that this will kill her, emotionally and spiritually," Byron sighs. "Mom took it very hard. It had a devastating impact on her."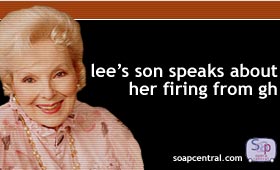 Now that Lee is no longer on contract, the actress will no longer receive a regular paycheck. Though Byron claims that his mother was in the "bottom five-percent" of salaried performers on the show, he states that she needs every penny of her salary to pay for her full-time caretaker - a cost not covered by her insurance.
Under contract to a show, a performer usually is assured a certain number of on-air appearances. Along with the contract comes a guaranteed salary. Though Lee only appeared on-screen about a dozen times this past year, ABC did honor its agreement with Lee and paid her in full for her work. Now that she'll be placed on recurring status, Lee will be paid the standard day-rate given to performers who do not have contracts.
"Anna Lee has been a beloved cast member of General Hospital for many years, and it is our intent to continue to use her in a recurring role as Lila Quartermaine on the show as story needs may dictate," said the network in an official statement.

RELATED STORYGH's Lila bumped to recurring status. [Nov 4, 2003]