In what is being seen as a casting surprise, Robin Mattson will reprise the role of Heather Grant Webber on General Hospital next month.
"Heather will return this summer with a vengeance," confirmed head writer Robert Guza, Jr. "It will be an exciting story that even longtime... fans couldn't imagine."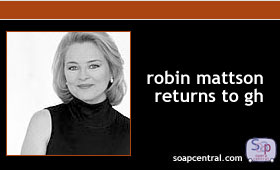 Mattson, known for roles on a variety of soaps including All My Children, Guiding Light and Ryan's Hope, was last spotted in Port Charles back in 1983. Mattson, the third - and last -- actress to portray Heather, held the role from 1980 through 1983.
According to Mattson, she didn't expect to get a call from anyone at her old stomping grounds. In a recent interview, Mattson said that returning to General Hospital "makes sense" because her character's storyline has been left unresolved for over 20 years.
When last seen on-screen, Heather was seen fleeing Port Charles. Like many of Mattson's characters, Heather had gone off the deep end and had actually been institutionalized. Her return can be tied to at least one current character - Elizabeth Webber. Heather was at one time married to Elizabeth's father, Jeff. Recent casting rumors have also hinted that General Hospital might be interested in bringing Heather's son (and Elizabeth's half-brother), Steven Lars, back to the canvas.
Earlier this, GH hinted that a fan-favorite would return to the show. At the time, buzz was that Marisa Ramirez (ex-Gia Campbell) was in talks to return to the show. It would appear now that Mattson was the celeb in question
Mattson will first air June 25th, but it is said that her first appearance will be prefaced by flashbacks and possibly a brief glimpse as early as this week. It is unclear how long Mattson and her character will remain on the show's canvas as details of Heather's return are being kept very hush-hush - even to Mattson.