What are your thoughts on GH recasting the role of Lucas?
Honestly, I wish GH would scrap the gay storyline idea.
54%
I really liked Carnes' work and wish he would have stayed.
20%
It doesn't matter to me who plays the role of Lucas.
12%
I see no need for Lucas. He should have been written out.
6%
Hey, every other role has been recast -- why not Lucas too?
5%
I'm excited that a new actor has taken over the role.
2%
Other
1%
Poll Posted: September 26, 2005
Some General Hospital fans are scratching their heads and wondering why the role of
Lucas Jones
was suddenly recast in late September. After all, until recently the Lucas had been primarily a background character.
"Ryan Carnes has decided to move on," a General Hospital spokesperson said in a statement last month. "[T]he cast and crew wish him well in all of his future professional endeavors."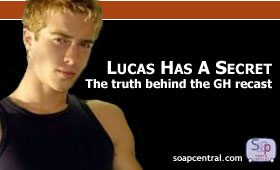 With Carnes' success in a recurring role on the primetime soap, Desperate Housewives, it surprised many that the young star wouldn't relish some extensive on-screen time on General Hospital. Internet rumors, however, assert that Carnes had an issue with the direction that the writers had planned for Lucas: Lucas will be coming out as gay later this year. The rumors claim that Carnes is fearful of being typecast in gay roles. His Desperate Housewives' character was seen smooching another boy last season and he starred opposite the openly gay American Idol finalist Jim Verraros in the independent film Eating Out.
"Ryan is probably the last one who'd have a problem playing a gay character," Carnes' rep says of the rumors. "He's done it twice, so he's very happy and very comfortable with it."
So if Carnes doesn't have an issue with playing a gay role, what is the reason for his decision to up and leave General Hospital when his character is on the cusp of a juicy storyline.
"We have known for a good year now that he would be done with General Hospital at the end of this summer because of his fall commitments," Carnes' agent continued. "We didn't want to get him involved in the gay storyline and then up and pull him [from the role] halfway through. For the integrity of the show and the character, Ryan wanted to bow out before the storyline got really good."
Carnes made his final General Hospital appearance on September 21.
Meanwhile, on September 22, Ben Hogestyn (son of Days of our Lives star Drake Hogestyn) assumed the role of Lucas. Hogestyn is a newcomer to daytime television, but being the son of a daytime star, he is obviously familiar with the ins and outs of the business.
Hogestyn does, however, join the General Hospital cast with previous acting experience. He has appeared on the now-cancelled NBC primetime series American Dreams, The Division, and on the Nickelodeon series, Ned's Declassified School Survival Guide. He's also been an extra on Days of our Lives.