When Genie Francis (Laura Spencer) returns to television screens across the country this week, fans will get their first glance of the actress in over four years. However, away from General Hospital, Francis has kept busy raising two children and starting a new business.
Francis and her actor-director husband, Jonathan Frakes (William T. Riker, Star Trek: The Next Generation), recently opened up a home furnishings store in Belfast, Maine. The store, called The Cherished Home, taps into another area of interest for the Emmy-nominated actress: interior design.
By now, fans know that the 44-year-old actress has spent most of her career in daytime television in the fictional town of Port Charles. However, Francis took a five-year break from General Hospital in the mid-80s and early-90s, during which time she appeared on NBC's Days of our Lives and ABC's All My Children. Francis' official resume lists her years on General Hospital as 1976-1981, 1983-1984, October 29, 1993 to September 6, 2002.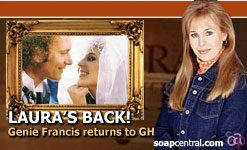 When last spotted on General Hospital in 2002, Laura was catatonic in a mental institution after killing her stepfather, Rick. This week, Laura will finally awaken from her other state after being administered an experimental drug. Groundwork for Laura's return had actually been laid back in June when Luke visited his now-ex-wife at Shadybrook. There was some initial concern that Francis had been demanding a huge salary in order to return to GH.
Francis' return to General Hospital is scheduled to last only a few weeks and will coincide with the 25th wedding anniversary of Luke and Laura. The door, however, will be left open for the actress to return down the road.
Luke and Laura's wedding anniversary will be celebrated on November 16.
---

RELATED STORY
ABC to announce return of Genie Francis as GH's Laura