It's been buzzed about for months and now the rumor has been confirmed: Emmy winner Natalia Livingston (ex-Emily Quartermaine) is returning to General Hospital. While the actress' return is a done deal, don't expect Emily to miraculously rise from the dead.
According to a show spokesperson, Natalia will be playing a new character by the name of Rebecca Shaw. A show insider hints to Soap Central that Rebecca might be a heretofore-unseen sister of the late Emily. Officially, the show has no comment and is keeping much of the details regarding Livingston's return under wraps.
Livingston joined the cast of General Hospital in April 2003, taking over the role of Emily from the fan favorite Amber Tamblyn. Livingston remained with the ABC soap for five years, but her exit was not as smooth as the actress may have wanted. In June 2007, Livingston rejected claims that she was leaving the show. In a statement, the actress blasted what she called "sensationalist" web sites and print publications for making up stories about her status with the show.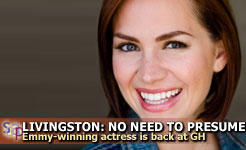 Shortly after the hubbub died down, so did Livingston's on-screen alter ego. Emily was killed as part of the show's Text Message Killer storyline, but Livingston remained on as a ghostly image for several more months. She made her final on-air appearance in May 2008. During her tenure with General Hospital, Livingston earned a Daytime Emmy win for Outstanding Supporting Actress in 2005.
A few months back, Livingston was spotted at the General Hospital studios and there was immediate speculation that the actress would be returning to the show. Her appearance was downplayed as a former star dropping by to catch up with old friends.
Livingston will first air January 15.