The re-signing of Hillary B. Smith (Nora Hanen) to a one-year contract with One Life to Live was to have put to rest the chatter surrounding the Emmy-winning actress' future with the ABC soap. But the topic wouldn't go away that easily and Smith wrote a letter to her fans to help clear up some untruths that had been making their way around the 'net.

"I [usually] don't believe in discussing business," Smith said in a statement on Kassie DePaiva's official web site. "I think it breaks the illusion that we work so hard to create. But because your input was so important in the final decision of this 'negotiation,' I thought it was only right that I address you directly with what happened."

Smith goes on to echo a statement made by her agent last year: there were no real negotiations.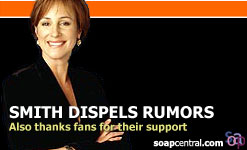 "There were no real negotiations happening during the fall. There was one gesture made by the network, but it was clear that there wasn't any real interest in writing for Nora at this time. The show had taken a different direction as is the nature of soaps," Smith continued. "At a 'good-bye' chat with [ABC Daytime President] Brian Frons, we both expressed our sadness at how this had happened, and how sad this was for everyone involved, crew, cast, and especially the fans. It was a wonderful conversation about a lot of things, but most importantly it opened the door for a creative resolution to the problem that was staring us in the face."

According to Smith, Frons said that he needed more time to make things happen. The day after the conversation, Smith offered to extend her contract with the show for an additional year.

"This 'one year' was my idea," Smith clarified. "ABC did not short-change me. Brian [Frons] and I are both pleased with this extension."

Due to the fact that the contract talks went down to the wire, the show's writers were told to stop writing scenes for Nora - just in case Smith did not re-up with the show. Smith is expected to be off-screen for at least a month. Head writer Dena Higley has already stated that Nora will awaken from her coma sometime in late-March or early-April.

"Hopefully the respirator hose will be gone by the next time you do see [Nora]," Smith chuckled. "I know, you'll all miss my Emmy-worthy breathing! Don't worry, it's on my reel."