James DePaiva (Max Holden), Nathan Fillion (Joey Buchanan), Emmy nominated Dan Gauthier (Kevin Buchanan), John Loprieno (Cord Roberts) and Tonja Walker (Alex Olanov) will all reprise their well-known roles in August to commemorate the airing of the 10,000th episode of One Life to Live. Their returns, however, will not necessarily be for a festive celebration, but rather for a celebration of another kind: a celebration of the life of Asa Buchanan.
In a stunning storyline decision, One Life to Live has decided to kill off the character of Asa. Fans may recall reports by Soap Central earlier this year documenting the breakdown in contract talks between actor Phil Carey (ex-Asa Buchanan) and show executives. Network brass wanted Carey to go off-contract and appear on a recurring basis. Carey, however, wanted to remain with the show as a contract player. When the network refused to offer Carey a new contract, the actor walked. Carey, a 28-year veteran of the show, last aired - without any fanfare -- on April 26th.
DePaiva, the real-life husband of Kassie DePaiva (Blair Cramer), exited One Life to Live in 2003. At the time, the nearly 16-year veteran said that his firing had been imminent for some time.
"They made it clear a long time ago that this was going to happen, so it wasn't a shock or a surprise," DePaiva said. "[But] I didn't know when it would be happening."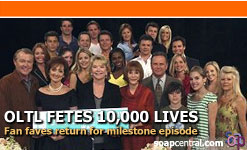 Fillion is one of seven actors to have played Joey in a 20-year span - and he is not the most recent actor to hold down the part. Bruce Michael Hall, who most recently appeared as Reese Durkee on NBC's Passions, is the last performer to appear as One Life to Live's Joey. Hall's stint lasted a less than a year, running from February to December 2003. Before that, Don Jeffcoat enjoyed an almost-four-year run from 1997 to 2001. Fillion held the role just before Jeffcoat, belonging to the cast of the soap from 1994 to 1997.
Gauthier's exit from One Life to Live was also not well-received by fans - nor the actor's co-stars. A handful of Gauthier's co-stars expressed their dismay when the actor was
sent packing last year
. With a
new head writer in place
, some fans are optimistic that the actor could return to the fold again in the near future. Gauthier, the eighth actor to portray Kevin, appeared from 1993 through 1996.
Davidson was a cast regular from 1990 to 1997, but returned briefly in 2001. Loprieno had two contract runs on One Life to Live. The first ran from 1986 to 1991 and the second from 1993 to 1997. He made a special appearance in 2004
As a special nod and wink to the show's viewers, One Life to Live has scripted a reference to "10,000" in every episode between July 30th and August 10th.
39 years in the making, One Life to Live will mark its 10,000th episode on August 17th. The show premiered on July 15th, 1968 and was named Outstanding Drama Series at the Daytime Emmys in 2002.