Inez Salinger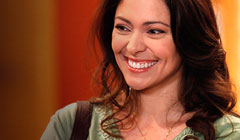 Former executive assistant to Police Commissioner Bo Buchanan
Previously held secretarial jobs
Llanview, Pennsylvania
Previously in Dayton, Ohio
Single/Divorced from Eddie Ford
Eddie Ford (Divorced)
Unknown
Bo Buchanan (infatuation)
Told Clint she would sleep with Bo if Clint got rid of her ex-husband [Dec 2010]
Drugged Bo to make it seem like they slept together [Dec 2010]
None
When high school student Nate Salinger found $50,000 in cash at the quarry, he told his girlfriend Dani that his mother could use the money because she had been out of work for months and was about to lose their home. Dani traded in the cash for a bank-issued check and Nate presented the check to his mother, Inez Salinger, explaining that he had won the money in the lottery. Inez was suspicious of Nate's story but grateful for the money nonetheless. While at Carlotta's diner, she seemed to take a great deal of interest in a newspaper article about the recent attack on Robert Ford.
After Inez learned that the money really belonged to a young man who had gotten in a lot of trouble after losing it, she went to the hospital to return the check. There she ran into Robert Ford, who it turned out was her son. Bobby still resented his mother for having abandoned him and his younger brother James, leaving them in the care of their abusive and criminal father, Eddie Ford. Inez earlier had moved to Llanview to try to reconnect with Ford, but he had rejected her. Inez didn't even realize James was in town, and was shocked to learn he had been shot after stealing $50,000 from his father. Inez then realized that the money Nate had found belonged to James. Inez used the money to pay for James' medical bills and visited James, who had no idea she was his mother. When James told his brother that Nate's mother Inez had paid for his bills, Bobby realized they had another brother. Bobby confronted his mother about Nate, and she admitted that he was their brother. Bobby and James' father assumed she had gotten pregnant by another man and had thrown her out, but Inez told Bobby that Nate was his full brother. Eddie threatened to harm Nate if Inez sued for custody of Bobby and James, so instead she watched them grow up from afar.
Inez had a chance meeting with Police Commissioner Bo Buchanan when Bo stopped her for having a broken taillight on her car. Inez shared her story about having kept the truth about her two older sons from her youngest, and Bo realized she was talking about Nate. Inez later came into the police station to apply for the position as the police commissioner's executive assistant, not realizing that Bo was the commissioner. Bo hired her immediately after seeing her stellar resume and suggested to Inez that she come clean to her sons. Inez took Nate to see Robert and James and revealed that they were all brothers. Nate was angry at his mother for keeping the truth from him and lying about his father, whom Nate believed had run out on them.
Inez caught the eye of Clint Buchanan, who asked her out on a date. Although Inez was wary of dating Clint because his brother was her boss, she welcomed the attention and enjoyed Clint's company. When Inez mentioned to Clint that her son James had to leave university because her other son Bobby had lost his job, Clint arranged for James to get a grant so he could continue his studies. Later, Clint offered to talk to the university dean about Robert getting his old teaching job back. Inez questioned what Clint wanted in return, but Clint said all he would like is to get to know her better.
Inez was stunned to learn that her ex-husband Eddie Ford had been released from jail in Ohio and come to Llanview. Inez encouraged Robert and James to leave with her, but Bobby told Inez that they had to stay and deal with their father or else he would make James pay for stealing the $50,000 from him. Inez told Bo that Eddie was in town and Bo went to see him, warning him that the police would be watching him. Inez bought Bo a plant to thank him, but Nora told Inez she should focus on doing her job instead of showing gratitude to Bo. Inez assured Nora she had no designs on her husband, but Nora felt otherwise. Inez was mortified when Nate got into a fight with Matthew on Thanksgiving Day and then learned Eddie had caused a disturbance at Dorian Lord's home. Clint gave Inez a necklace but Inez said she couldn't accept it because she wasn't ready to take their relationship to the next level by sleeping with him. Clint stunned Inez by saying he wanted her to sleep with Bo to get back at Bo and Nora for fooling around behind Clint's back. Inez at first refused to go along. But after Clint had Eddie sprung from jail, Inez realized Clint would make life miserable for her and her sons if she didn't comply. Inez told Clint she would seduce Bo if Clint made her ex-husband disappear, which he promptly did. Inez felt Bo would never cheat on Nora, but Clint assured Inez that Nora wouldn't be a problem. Inez approached Bo the day after he had gotten into a huge fight with Nora, in which Bo threw her affair with Sam Rappaport in her face. Bo shared with Inez a text message from Nora, who said she didn't know if she could forgive Bo for his comment. Bo then sent a message to Nora accusing her of acting like a child, and he got a return message from Nora saying that Bo should sleep with Inez to even the score.
Inez confided in Marty Saybrooke that she was having trouble sleeping because of problems in her personal life, and Marty prescribed her a powerful sedative. When Bo came to Inez's apartment, still in despair over his situation with Nora, Inez served him a beer spiked with the sedative. Bo passed out, and the next morning Inez lied that they had slept together. Inez told Clint that Bo believed he had cheated on Nora, even though they never slept together. Inez learned that Eddie had been shot dead, and Clint hinted that one or more of her sons was involved. The police found the murder weapon in Inez's apartment and arrested Nate after an eyewitness placed him at the scene. Nate pleaded guilty, believing that his mother had actually pulled the trigger, but later admitted that Eddie was already dead when he showed up at the hotel room. Inez admitted to Bo and Nora that she had never slept with Bo and had been pressured by Clint to make up the lie. Bo had Inez arrested for drugging him and forced her to wear a wire and attempt to get Clint to reveal what he had done, but Clint figured out what Inez was trying to do. Bo cleared Inez of any criminal charges and then fired her from the police station.

Post a Comment

Share on Facebook

Tweet this

Submit Feedback