Nash Brennan
Deceased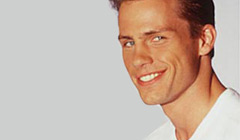 Died June 5, 2008
Winery Owner
Former manager of Capricorn
Llanview, Pennsylvania
Formerly Napa Valley, California
Married (Jessica Buchanan) [Married: Jul 12, 2007; dissolved by his death]
Jessica Buchanan [Married: Jul 12, 2007; dissolved by his death]
Phil Brennan (biological father)
Cindy Brennan (biological mother)
Brennan "Bree" Brennan (daughter; with Jessica)
Chloe Victoria Brennan (stillborn daughter; with Jessica)
Claudia Reston (former fiancée)
Jessica Buchanan (lovers) [as herself and as her alter, "Tess"]
Helped Claudia Reston cover up the truth about her father's death [2006]
Kidnapped Jessica Buchanan and baby Brennan [2006]
Nash Brennan was living in New York City in July 2005 when his car was stolen by a woman named Tess, who was in fact an alternate personality of Jessica Buchanan. Nash was attracted to and took her into his home. Tess warmed to Nash, telling him that the "Jessica" she blamed for ruining her life was her dead twin sister. Jessica's uncle Todd Manning tracked Tess down but was thrown off the trail by a protective Nash. Jessica reemerged and returned to Llanview, but Nash followed and took Tess to his Napa Valley winery. Jessica emerged long enough managed to send clues of her whereabouts to her boyfriend Antonio Vega, who tracked her down in California and brought her back to Llanview. Nash followed, and in October 2005 the truth of Jessica's condition was revealed to Nash and Jessica's mother Viki. Making matters worse, Jessica soon discovered that she was pregnant and that the baby's father could be either Antonio or Nash.
Nash fought with both Antonio and Jessica for Tess, especially once he learned that the baby Jessica was carrying could be his. In April 2006, Tess was in control when Jessica gave birth to her daughter, named Brennan Buchanan by Tess and later nicknamed "Bree" by Jessica and Antonio. In June 2006, a paternity test established that Nash was Bree's father.
After selling his winery in Napa, Nash returned to Llanview to see his daughter. Antonio ordered Nash to stay away from Brennan and get out of his home. Realizing that he had no other option, Nash kidnapped Jessica and Brennan in order to try to force Tess out of Jessica. Nash's ex-girlfriend, Claudia Reston, gave Antonio the information that led him to find where Nash was hiding Jessica and Brennan. Once Jessica and Tess were integrated, Nash broke down and turned to the bottle and his ex, Claudia, in order to find relief for his pain. This relationship with Claudia angered Jessica.
Nash eventually got clean, having finally decided to turn his life around in order to be there for his daughter. He started working on his new winery in Llanview and with Antonio's financial backing, Nash started working on the construction of the buildings on the land he owned. In order to have a bit more money to raise his daughter, Nash also took a job as the manager at Capricorn. Jessica and Antonio got engaged and left Nash devastated. He then proceeded to try to convince Jessica that she was not the same person as before the integration and shouldn't marry Antonio. The wedding did take place and Nash was in the wedding party. Nash later became Jessica's pet project as she tried to find a woman for him. During this time, Nash developed feelings for Jessica and tried to show her by kissing her and surprising her in ways she couldn't imagine. Jessica fought her feelings for Nash until the night Capricorn was set on fire by the arsonist and they were both alone in a storage room. Jessica and Nash finally confessed their love to one another.
Keeping in mind that Jessica was still married to Antonio, Nash pressured Jessica to make a decision between the two men. After speaking with Marty, Jessica decided that Antonio was the man she loved and wanted to be with and broke off her secret relationship with Nash. Jessica even agreed to adopt Antonio's daughter, Jaime. On the day of the adoption hearing, as Nash was preparing to leave town, Jessica left the hearing and she and Nash meet at the stone quarry, where they gave into temptation and made love. In May 2007, Jessica was about to tell Antonio that she wanted to be with Nash when she collapsed. She had contracted Hepatitis C as a result of Tess' wild lifestyle and needed a liver transplant. While waiting for a suitable donor, Jessica admitted her feelings for Nash to Antonio, who was furious and left town with Jaime. After learning that Antonio was a donor match, Nash tracked him down and convinced him to return to save Jessica.
Jessica and Antonio divorced in July 2007, but then her body rejected the transplanted liver. David Vickers turned out to be a suitable donor and made a deal with Clint to donate his liver in exchange for $10 million. Nash and Jessica married on July 12, 2007, just before she went in for surgery. After the surgery, Nash was there for Jessica and even took her on a honeymoon in her hospital room.
In the spring of 2008, Nash became involved with mysterious investors wanting to help make the Brennan Winery a major success. Jessica discovered that she was pregnant again; before she could tell Nash, he discovered that his investors wanted to steal his land out from under him and turn it into a "Mall of Tomorrow." Desperate, Nash agreed to an offer from Jared to buy the winery through Buchanan Enterprises. This plan evaporated, however, when Dorian Lord exposed Jared as a fraud and declared that all transactions and contracts made by Jared as a Buchanan heir were null and void. As a result, the investors took Nash's land once and for all, ordering Nash and Jessica to move out of their home. Enraged, Nash confronted Jared, blaming him and Natalie for their deception and the loss of his vineyard. During the argument, Jared shoved Jared away from Natalie and Nash fell through a skylight onto to the floor several stories below. Nash was rushed to the hospital but had suffered massive internal injuries. Jessica managed to tell Nash she was pregnant and, with Bree by Nash's side, vowed that their children would never forget him. Jessica and Nash shared a final kiss before he died in her arms.

Post a Comment

Share on Facebook

Tweet this

Submit Feedback