Sunset Beach Recaps: The week of January 13, 1997 on SB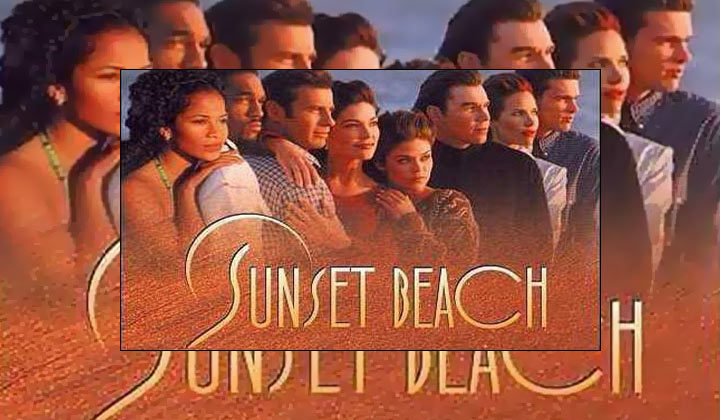 Monday, January 13, 1997
by soapcentral.com
At the Scene of the Crime
Badly wounded, Del crawls towards the phone while Sean looks on from the door. At the hospital, Ben tries to comfort a distraught Annie as the doctors try to stabilize Del. Ricardo attempts to question Annie but Ben intervenes. Del gasps out his daughter's name before going into cardiac arrest and dies. Later on, Aunt Bette is upset to find Del's wallet in Annie's purse. Gregory catches Olivia in a lie when she returns home late. She told him she was with a client, but she was really at Del's.
Misc. Threads.
&nbull; Ben drags Tiffany into the house and orders her to stop stalking him. In response, she smashes a vase over his head.
&nbull; Paula is humiliated to discover that her boyfriend was only joking about them living together.
&nbull; Mark warns Tiffany to stop playing games with his boss.
Tuesday January 14, 1997
by soapcentral.com
Gregory grabs a drunk Olivia and puts gives her a cold shower. He asks her if she had an affair with Del. She admits to it and blames him for causing her to go to Del's arms. Caitlin, their daughter, walks in and breaks up the fight. Olivia calls Eddie at the station and they meet on the pier. She told him that she doesn't want her statement about "hiring a hitman to murder someone" seriously. He tells her that if she has any skeletons in her closet to bury them. At the end of the show she pulls a gun out of her drawer.
At the Station
Ricardo is pressured on finding a suspect. When Eddie mentions Annie as one. Next there is a tape of the conversation between Del and Ricardo with Annie yelling that she was going to kill her father. It seems pretty open and shut that she is definetly a suspect, but Ricardo says it's only circumstancial. Later that day Ricardo and Paula have a heart-to-heart talk. He told her "I've never felt about anyone the way I feel about you" (Famous Last Words) and how this is the longest that he's every been out with someone. Paula told him she wants to get married and that isn't something he wants. So she decides it would be best for them to break up.
Alibis
Annie went over to Ben's house to ask for advice. He takes her outside and asks her where she was last night when her father was killed. She claims to have been walking on the beach thinking. She wants him to be her alibi, but Ben refuses. She told him that she stood by him when everybody in town was pointing fingers at him, and that the least he could do was stand by her. He tells her she should get a lawyer. So they go over to the Richards estate and ask Gregory for legal advice. Ricardo happens to show up and wants Annie to come for questioning. At the interrogation Annie lies her way through it. Gregory finds out from Ricardo that his wife's hair was found on the bed in the hotel.
Misc. Threads
• Tiffany plans on buying Ben a minature recreation of the boat Mariah (The ship that belong to Maria and Ben).
• Michael again saves Vanessa from an attack.
Wednesday January 15, 1997
by soapcentral.com
Secrets and Lies
Olivia is looking through her jewelry and picks up a locket. Inside is a picture of her and Del and there is an inscription on it. All of a sudden, Gregory bursts into the room demanding to know why her hairs were on the bed. At first she feigns ignorance, but he told her that they were both there that night. He notices the gun on the bed and picks up. He mentions how it was the same gun that killed Del. Olivia just says its just a coincidence. At Annie's house, Annie told Aunt Bette that she is her alibi and that she better get the story straight. Ricardo shows up later and asks Aunt Bette about Annie's alibi. She told him that she was with Annie watching the movie Braveheart and that she stayed a little bit longer after the movie to talk. After he leaves Annie thanks her Aunt. When Annie is out of the room Aunt Bette pulls out Del's wallet. She takes the money out and then throws it in the fireplace. As it is burning she says, "I'd do anything for you Annie."
Misc. Threads
• Casey gives Rae a white rose which accidently falls on Meg's backpack. When she comes in she thinks the rose was left their by Casey for her.
• Eddie takes pictures of Olivia dropping the gun into the ocean.
• Ricardo gives Paula the ring and asks her to come over for dinner. She declines saying she is having dinner with Eddie.
• Tiffany leaves the minature replica of the boat Mariah in an obvious place where Ben would find it.
• Vanessa wants to move in with Michael so she can be safe from the people who are after her.
Thursday January 16, 1997
by soapcentral.com
Call the Doc
Remembering how "SB" loves strawberry muffins, Meg offers Casey some home-baked goodies. In horror, she watches him struggling to catch his breath. At the hospital Rae diagnoses him as suffering from an allergic reaction to strawberries. Rae assures her Casey will recover. Meg begins to wonder if Casey really is her internet soulmate. When they are back home she asks him is he SB.
The Reading of the Will
Everyone gathers around for the videotape reading of the will. Annie is in shock when she finds out her daddy's inheritance is going to Olivia, the "love of his life". She then accuses Olivia of murder. However, Annie did get to have daddy's urn, which she flushes all his ashes down the toilet.
Misc. Threads
• Ricardo interrogates Sean who lies about the woman he saw leaving Del's room.
• Olivia provides police with hair samples so that they can compare them to the one's found on the bed.
• Ben is planning to run an E-mail trace on "Dorothy".
• Sean's headmaster informs Gregory that his son has been expelled from school.
• Paula told Michael that the fingerprints on the blackjack belong to a man who has been dead of over two years.
Friday January 17, 1997
by soapcentral.com
Search and Seizure
As Annie went to move her jacket a gun drops out. She quickly picks it up as the police bang on the door. Trying to find a hiding place she eventually puts it in the back of her pants. Ricardo and the police come in through the window and ask why she didn't open the door. Aunt Bette comes in and asks what is going on. Ricardo shows her the search warrant. The rest of the police go and search the house. Aunt Bette went over to the fireplace and is trying to explain to Annie about what she did to the wallet silently. Ricardo hears the poker drop and asks Bette to move away from the fireplace. He begins to examine it and notices a burnt picture of Del's drivers license. Annie excuses herself to the bathroom followed by Paula. Annie then escapes out the bathroom window.
At Olivia's house the police are also searching. In her bedroom she is arguing with Gregory. He pulls an envelope from her drawer and bullets begin to fall all over the floor. He can't believes she forgot to dispose of the bullets. She hastily picks them up as a police officer walks in. The policeman told them that they are leaving. A bullet is inches away from his foot. Gregory went over and covers it with his foot.
Caught in the Web
Meg finds out Casey is not SB. Disappointed she thinks about going back to Kansas. Casey told her she can stay here and that she should find SB. She later went to the Java Web. Meanwhile, Tiff keeps up her masquerade that she is "Dorothy", but Ben doesn't buy it. Tiff later tries to convince Meg to not contact SB. This leads Meg into quitting her job, but Ben plans to keep the position open in case she changes her mind. Meg then went back to the Java Web and writes "SB" a note telling him to meet her on the pier.
Just as Ben is about to go to the pier, Annie appears begging him to help her. He is reluctant to and says the best thing for her to do is tell the truth. She then pulls out her gun and threatens to shoot him if she doesn't help.
Misc. Threads
• Eddie develops the incriminating photos of Olivia throwing the gun into the ocean.
• Olivia packs, but Gregory talks her out of it. He told her the children need her and that he helped get her out of the gutter.
• Casey feigns illness and Rae rushes to get her medical bag. When she is about to give him a shot of truth serum he admits he's faking it. Just as they are about to kiss the pipe explodes and they are showered with water.
• Tiff tries to convince Tim to take Meg back to Kansas.